Automatic Strapping Machine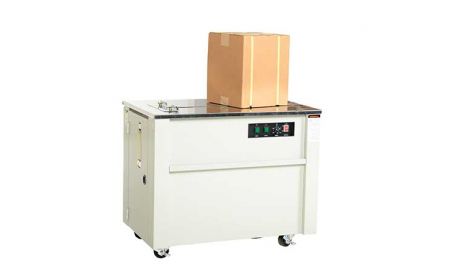 Beacon

®

BS-2001 Series

The Automatic Strapping Machine dispenses, tightens, and seals strapping around bundles or boxes greater than 3", minimizing wrapping time. These Box Strapper models are portable and move on 3" x 1-1/4" casters. This series automatically tightens the strapping and joins the ends with a tight heat weld. The motor turns itself off when the unit is not being used and automatically restarts when needed.
---
Product Details
Construction: Units feature a stainless steel strapping surface.
Size: These units are 22-1/2" wide x 35" long x 29" high and have a strapping width of 1/2".
Electrical: The wall plug necessary for operation is standard 115 V single phase 15 amp.
Weight: The unit weighs 300 lbs.
Operation: The design of this unit allows for easy strapping reloading. User friendly controls minimize packaging time. Units are portable for convenience.
Standard: This Automatic Strapping Machine unit works with 1/2" polypropylene strapping material, which comes in rolls of 9,900' with 308 lbs. of tensile strength.
Surcharge: Tariffs or surcharges may apply to current published pricing.
---
Automatic Strapping Machine - BS-2001 Series

Model#
Overall Dimensions (W x L x H)
Strapping Width
Power Supply
Caster Size
Minimum Package Size
Price
1) BS-2001
22½"x35"x29"
½"
115V, 1 Ph, 15 amp
3"x1¼"
3"
$1,536.55
PROP 65 WARNING
Products on this page may lead to cancer or reproductive harm.
TM
Call Beacon:
800 454-7159