WORK PLATFORMS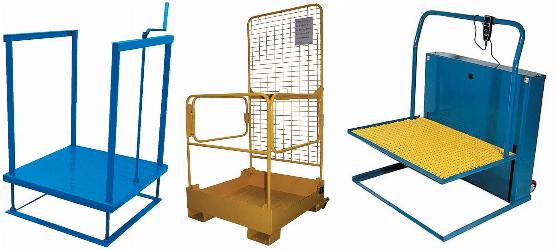 Beacon® Worker Platforms are either adjustable or can be raised into working position with a fork truck. These portable work platforms can be used to raise to overhead racks and shelves safely and efficiently. They are ideal for use in a stock room with high vertical shelves. Always use safety when working with this equipment by utilizing the safety harnesses, the emergency stop button, and the hand rails.
---
Click one of the 4 highlighted links below for pricing and product descriptions of our Work Platforms.

1) View 3 Models


The BPOS is an economical, variable-height worker positioner. The unit is available in sizes up to 36" wide x 72" long and has a capacity of 500 lbs. Height is adjusted via a hand crank or optional hydraulic power.





2) View 3 Models


This BWP-400 is designed to raise and lower a worker to optimum working height for maximum productivity and minimum risk of injury or fatigue. The unit has a 400-lb. capacity and is push-button operated.





3) View 16 Models


This BWP attaches to fork trucks and features 42" high handrails with 21" high mid-rail on three sides for added safety. These models feature a 1,000-lb.





4) View 3 Models


This BWP-FD raises workers to overhead racks and shelving for convenient access and features knock-down design, enabling it to take up a minimum of storage space.