DRUM CRUSHER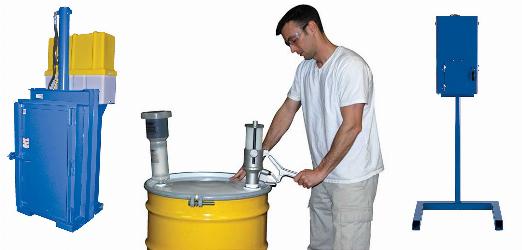 The Beacon® Drum Crusher is available in a variety of models in order to crush drums in warehouses or offsite. The gas powered Hydraulic Drum Crusher provides versatility and heavy-duty crushing power. The Oil Filter Crushers and Aerosol Can Crushers allows businesses to remain environmentally friendly by crushing and recycling otherwise hazardous items. The Industrial Trash Compactors makes the most of drum space by compressing drum contents with up to 7,000 lbs. of force.
---
Click one of the 5 highlighted links below for pricing and product descriptions of our Drum Crusher.

1) View 8 Models


Our BHDC crushes steel drums up to 55 gallons and resets automatically. The unit features over 38,000 lbs. of crushing force and can also compact contents of 55-gallon drums.





2) View 1 Product


The BHDC-GPT is an excellent option for efficient drum crushing. The gas-powered unit features a built-in trailer, an 18 HP engine, and hydraulic reservoir.





3) View 3 Models


This BMTC is used to compact the contents of either 30 or 55 gallon drums. The unit can generate up to 7,000 lbs. of compacting force and is portable with tilt and roll wheels.





4) View 3 Models


The BCM is available in one model: The unit is air-powered powered with 180 PSI and can provide 13,000 lbs. of crushing force.





5) View 1 Product


Our BCAN-RECY turns aerosol cans into scrap metal while emptying can contents into your drum. The unit is a complete system featuring safety goggles, puncturing device, OSHA anti-static wire, and carbon filter.