PICKING CARTS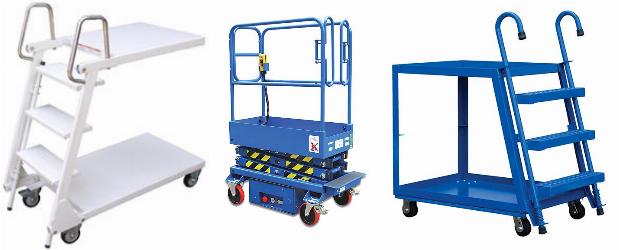 Beacon® Picking Carts are utilized as a portable ladder with a tray. Different designs are available with one, two, or three shelves, and each model has a unique features. These units have a maximum capacity ranging from 660 lbs. to 1,000 lbs., depending on the number of shelves and aluminum or steel construction.
---
Click one of the 4 highlighted links below for pricing and product descriptions of our Picking Carts.

1) View 1 Product


This BSPS-2041-C features a unique design that allows for oversized packages to fit on the bottom shelf. The unit has a 440-lb. capacity and a bottom shelf size of 20-1/2" wide x 41-5/8" long.





2) View 12 Models


The BSPS-HD and BSPA-HD is ideal for oversized cartons, boxes, parts, and supplies. The unit is available with a bottom shelf size up to 28" wide x 52" long. It and has a 500-lb. maximum capacity.





3) View 20 Models


These BSPS2-3 and BSPA2-3 combine the mobility of a cart with the versatility of a step ladder. These models have a capacity of 330 lbs. per shelf and a bottom shelf size of up to 28" wide x 48" long.





4) View 2 Models


This BEOP features power lift with up to 500 lb capacity including a service range of 26" to 118". These units feature swivel wheels with a safety braking system.