CRANE ACCESSORIES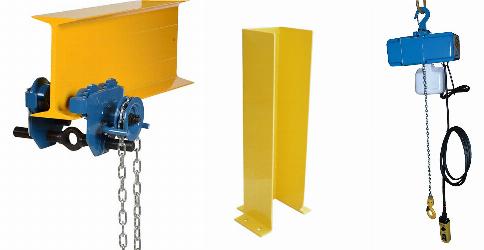 What are Crane Accessories? Bear Claw® Crane Accessories are components such as hoist and trollies to be utilized with in conjunction with cranes and jibs for lifting and positioning heavy objects in a safe manner. The I Beam Trolley can be adjusted with a manual screw mechanism. Geared models are designed to fit I-beam flanges from 2-1/2" up to 8". Models without gears are designed to fit 2" to 8-5/8" flanges. The Chain Hoist is available with lifts of 10', 15' or 20'. The different accessories work well together to create a complete crane assembly.
---
Click one of the 20 highlighted links below for pricing and product descriptions of our Crane Accessories.

1) View 12 Models


This BE-MT is designed for quick installation on virtually any S type I-beam. The unit supports up to 10,000 lbs. and is available as a geared or plain push model.





2) View 7 Models


The BQIT is adjustable and will fit virtually any I, M, W, H, or S-type beam. The unit supports up to 12,000 lbs and feature a lifting eye for attaching a hoist.





3) View 18 Models


The BPHCH is designed for low head room. Service range 10' 15' or 20'. Capacities 1,000 to 10,000 lbs.





4) View 15 Models


The BHCH is portable, lightweight, and durable and features compact design for low headroom. Capacities from 1,000 up to 10,000 lbs.





5) View 2 Models


This BHCH features non sparking brass construction. Capacities range from 1,000 to 2,000 lbs.





6) View 8 Models


This BLOW is available with either a push or geared construction and features a low headroom to allow for additional raised hook height as well as up to a 6,000-lb. capacity.





7) View 1 Product


This BECH-ED features easy installation, transportability, and a double-braking system. The units lift 22 feet per minute and have a capacity of 1,050 lbs. This equipment is lightweight and compact.





8) View 1 Product


This BECH-50M is designed for optimum control and ease during use and features one hand control and a wide range of adjustable speeds. Lifting capacity of this item is 525 lbs.





9) View 10 Models


This BH is designed for single or three-phase power and features 24V push-button control. Hoisting capacity ranges from 1,000 to 4,000 lbs.





10) View 16 Models


The BECH is push-button controlled and is available in single or three phase. This equipment efficiently lifts heavy materials and supports up to 6,000 lbs.





11) View 1 Product


This BVS-ECH allows for quick lifting of heavy loads up to 1,000 lbs. The unit features a variable speed from 0 to 49 FPM and a 13' lift.





12) View 5 Models


This BACH is suitable as a workstation hoist or at a production line and features a standard lift of 10 feet at 90 PSI.





13) View 8 Models


Our BMINI is designed for portable or remote applications. The unit has a cable length of 36' when used as a single line or 18' when used as a double line and features a 2000-lb. max capacity.





14) View 1 Product


This BFES is designed to keep power cords out of danger when using electric trolleys or hoists. The unit works with electric chain hoists.





15) View 23 Models


The BELH is designed with a Weston-Type auto braking system to allow for precision. Units are available with up to a 12,000-lb. capacity and feature a 360-degree rotating lever handle.





16) View 1 Product


The BHWG features manual or worm gear drive operation for easy lifting, lowering, and pulling of loads. The unit helps to reduce worker strain needed to handle heavy loads up to 1,000 lbs.





17) View 3 Models


The BHWSS manufactured from stainless steel. Featured machined gears with a cover to keep out dirt. Capacites range from 1,200, 1,800 & 2,600 lbs.





18) View 5 Models


This BBC is designed to reduce I-Beam flange stress by distributing loads away from flange during overhead lifting applications. The unit features capacities of up to 8,000 lbs.





19) View 4 Models


This BSC provides quick and accurate digital reads in a durable housing and features weight capacities from 600 to 6,000 lbs. This equipment has a size of 7-5/8" wide x 8" deep and is either 14" or 17" high.





20) View 3 Models


This BCG prevents costly damage to steel columns, pipes, or gantry cranes. Units are constructed of 1/2" thick steel for maximum strength.