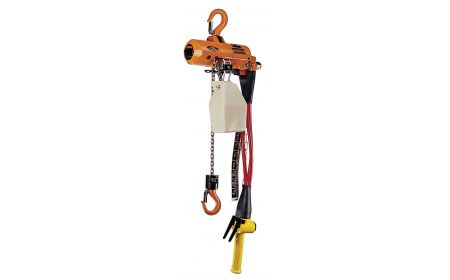 Bear Claw

®

BACH Series

The compact Air Chain Hoist has a sturdy design. It's lightweight enough to be transported between and installed in different workstations and sturdy enough to be used in production lines. The two lever pendant control enables variable flow for precise load spotting.

See chart below and click a model number
---
Product Details
Construction: Air Chain Hoist is designed as a lightweight, rugged and compact unit for industrial applications.
Color: Orange.
Weight: Net weight 19 lbs. for this type of air driven hoist.
Note: All lead times are approximate and are only estimates with no guarantee to a ship date.
Operation: 90 PSI of air pressure is required to operate the air chain hoist. Designed with variable flow, two lever pendant control for precise payload location and spotting. Can be used as a workstation air chain hoist or a production line air chain hoist.
Standard: The standard lift is 10' assuming the required 90 psi air flow is utilized. Air pressure by others.
Options: A chain container is available as an Air Chain Hoist option.
Surcharge: Due to supply chain disruption, inflation or material shortages - tariffs or surcharges may apply to current published pricing. Some longer lead times may be incurred.
---
Air Chain Hoist - BACH Series

Model No.
Capacity (LBS)
Lifting F.P.M.
Lift (Feet)
Price
1) BACH-25
250
42
10
$6,281.55
2) BACH-50
500
29
10
$6,427.81
3) BACH-60
600
16
10
$6,260.43
4) BACH-100
1,000
11
10
$6,400.55

OPTION

Model No.
Description
Capacity (LBS)
Width
Length
Price
5) BACH-CC-C
Chain Container
$149.92
PROP 65 WARNING
Products on this page may lead to cancer or reproductive harm.
TM
Call Beacon:
314-487-7600