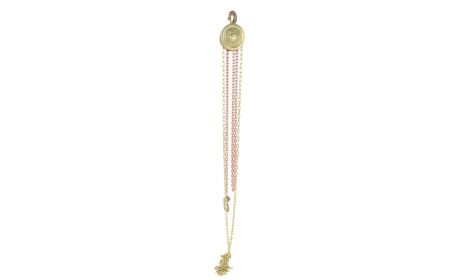 Bear Claw

®

BHCH-NS series

The Non Sparking Chain Hoist is manufactured out of brass. These units are user friendly and create a more productive environment.

See chart below and click a model number
---
Product Details
Construction: Non Sparking Chain Hoist features a non-sparking brass construction for a controlled environment.
Size: The overall head room size for the Non Sparking Chain Hoist is 14", giving the user a comfortable amount distance under the hook when working and lifting.
Weight: The BHCH-NS-1-10 weighs 35 lbs. and the BHCH-NS-2-10 weighs 47 lbs.
Note: Meets ANSI B30.16-2003 requirements.
Usage: Automatic brake engages as soon as the hand chain stops moving.
Capacity: This series features capacities of 1000 lbs. and 2000 lbs. for both light duty and heavy duty use.
Standard: Forged load hooks come standard on each Non-Sparking Chain Hoist.
Surcharge: Due to supply chain disruption, inflation or material shortages - tariffs or surcharges may apply to current published pricing. Some longer lead times may be incurred.
---
Non Sparking Chain Hoist - BHCH-NS series

Model No.
Capacity (lbs.)
Lift (ft.)
Headroom (inches)
Price
1) BHCH-NS-1-10
1,000
10
14"
$3,890.48
2) BHCH-NS-2-10
2,000
10
14"
$4,586.15
PROP 65 WARNING
Products on this page may lead to cancer or reproductive harm.
TM
Call Beacon:
314-487-7600