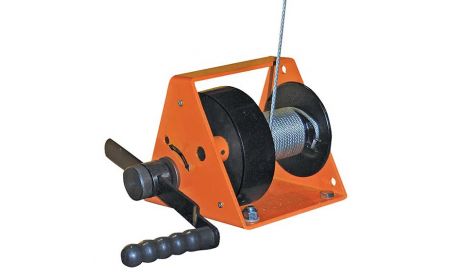 Bear Claw

®

BHWG Series

The comfort grip Hand Winch is ideal for lowering, lifting, and pulling in industrial settings. These units are available with a manual (BHWG) or worm (BHWV) gear for easy lifting. Model BHWG-600 features a load pressure brake, allowing the unit to hold loads at any height and eliminates the load from accidentally lowering. The adjustable crank handle allows for the easy and quick lowering of lighter loads, reducing effort required. These models can be operated in temperatures ranging from 14 to 120 degrees Fahrenheit. The BHWV-1000 model is worm geared for excellent load control. When the handle is released, the reel auto stops, allowing for load holding. The crank handle is adjustable.

See chart below and click a model number
---
Product Details
Construction: Hand Winch features maintenance-free rotating parts. BHWV has a reinforced frame and a rope drum and winch housing constructed from steel plate.
Size: Models range in length from 7" to 9-1/2", in width from 7-7/8" to 10-1/4", and in height from 7" to 7-7/8". Wire rope is either 3/16" or 1/4". Units have a drum capacity of 45' or 65'.
Color: Both models are Beacon orange. The BHWV features an enamel baked finish which is dipped and baked.
Weight: 36 lbs.
Capacity: Hand Winch units have capacities of either 600 or 1,000 lbs.
Surcharge: Due to supply chain disruption, inflation or material shortages - tariffs or surcharges may apply to current published pricing. Some longer lead times may be incurred.
---
Bear Claw® Hand Winch - BHWG Series

Model No.
Gear Type
Wire Rope
Drum Capacity (FT.)
Capacity (LBS)
Overall Size (L x W x H)
Price
1) BHWG-600
Manual
3/16"
65
600
9½"x7⅞"x7⅞"
$372.56
PROP 65 WARNING
Products on this page may lead to cancer or reproductive harm.
TM
Call Beacon:
314-487-7600