STORAGE SOLUTIONS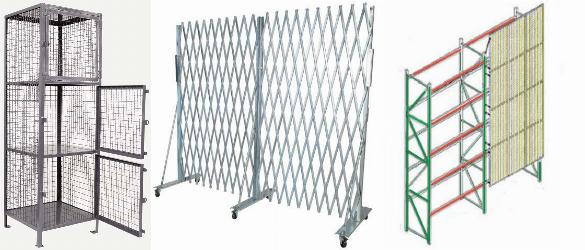 Storage Solutions provide organization for storage and retrieval of managed assets. Industrial steel cabinets with solid panels or wire mesh store and coordinate items or tools in a secure location at your business or home. Pallet Racking are frame structures to maximize storage for palletized material built in modular sections with standard frame units but with flexibility to increase in size as your business grows. Steel Containers are available in steel or plastic construction with different sizes to keep your business items organized during production or storage. Solid panels or wire mesh units are stackable when empty or full utilizing maximum storage capability. Liquid containers are supplied with FDA and UN certificates, also rated DOT certified.
---
Click one of the 6 highlighted links below for pricing and product descriptions of our Storage Solutions.

1) View 16 Varieties


Store materials, manage, organize and to provide loss prevention.





2) View 15 Varieties


Organize, store, manage and retrieve goods, pallets and equipment in the warehouse on a large scale.





3) View 10 Varieties


Designed to contain and secure items such as tools, bulk materials, granular material and fuel tanks





4) View 26 Varieties


Desinged as a brace to store material in the warehouse, inventory room, shipping area and assembly room.





5) View 3 Varieties


Limit personnel access to restricted areas temporarily or permanently.





6) View 8 Varieties


Wire mesh barrier for personell in the workplace to manage areas of importance.