DRUM EQUIPMENT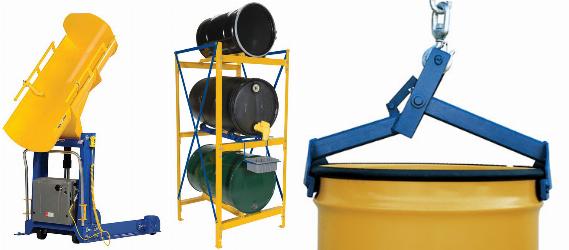 Beacon® Drum Equipment is designed to assist in the industrial drum and barrel handling work place. The Drum Dumper is available in stationary or portable units allowing tipping, dumping, raising, rotating and transporting commercial storage drums. Industrial Drum Tools are designed specifically to manage drums, dispense fluids, liquids, oils, flammables and acids in a safe and clean manner. Drum Storage features the ability for racking and stacking horizontal or vertical positioning.
---
Click one of the 7 highlighted links below for pricing and product descriptions of our Drum Equipment.

1) View 13 Varieties


Available in stationary and mobile units proving tilting and poitioning. Carriers, Rackes allows transport in the workplace.





2) View 26 Varieties


Available in lighweight units able to transport and palletize with ease. Carts, Jacks Dollies and Tilters assist in positioning for safe operation.





3) View 11 Varieties


The Beacon Forklift Attachments are designed for efficiency and are user friendly.





4) View 13 Varieties


The Beacon Drum Lifter is designed to securely lift drums and barrels via an overhead lifting device. Barrel Lifting Equipment is designed to ease the handling of heavy plastic, steel, or fiber drums.





5) View 8 Varieties


Features many units including pumps, spouts, sockets, funnels, chocks to handle and manage liquids, oils, acids and flammables efficiently.





6) View 5 Varieties


Beacon Drum Crusher is available in a variety of models in order to crush drums in warehouses or offsite.





7) View 13 Varieties


Beacon Drum Storage is designed to aid in storing and transporting drums while preventing messy spills. These drum transport racks are available in a variety of models and may be portable via casters or a fork truck.