LIFTING CLAMPS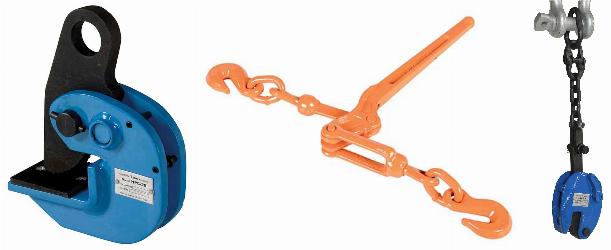 Bear Claw® Lifting Clamps can be used to lift anything from glass panes to smooth polished plates, as well as concrete, I beams or metal sheets. The Horizontal Plate Clamp can accommodate working load limits ranging from 2,000 to 8,000 lbs. and plates from 0" to 1.375" thick. Steel Beam Clamps feature working load limits of 2,000, 4,000, or 6,000 lbs. and minimum capacities of 400, 800, or 1,200 lbs. Identifying the surface and hardness is important when selecting the correct Lifting Clamp, designed to meet ASME B30.20 standards.
---
Click one of the 10 highlighted links below for pricing and product descriptions of our Lifting Clamps.

1) View 3 Models


Our BHPC is designed to lift plate materials in the horizontal position. The unit features a working load limit of up to 10,000 lbs.





2) View 3 Models


Our BLPC is ideal lifting equipment for various types of sheet material. Models are designed to firmly grip sheet material until its release ring is pulled.





3) View 4 Models


This BEPC is an industrial unit that is designed to securely grasp plate material for lifting. The unit features a pivoting bail for added versatility.





4) View 4 Models


This BCPC is designed to firmly grasp plate material for lifting in the vertical position. The unit includes a lifting eye with chain for increased versatility.





5) View 5 Models


Our BNMPC is used to lift smooth or polished plates without marring their surface. The unit can be used with fragile surfaces such as stainless steel, lacquered plates, wood, marble, glass, and concrete.





6) View 10 Models


The BPG is designed for raising steel or cast iron pipes via an overhead lifting device. The unit features working load limits of up to 3,500 lbs.





7) View 3 Models


This BBT is a universal lifting attachment designed to work with all types of objects varying in size, length, and shape. The unit works with our hoists, the air jib crane, and the articulating jib crane.





8) View 1 Product


This BVAC is used for lifting I-beams via an overhead lifting device and features capacities of up to 6,000 lbs. This equipment comes in three models to lift beams with widths of 6", 8", or 10".





9) View 3 Models


This BDLT is used with an overhead lifting device to lift heavy coils and position coils from the horizontal to the vertical position. This product features lifting capacities of up to 2,000 lbs.





10) View 2 Models


This BSLV has a capacity of 2,646 lbs and has a minimum grip of 3/8" and a maximum grip up to 2-3/8". Turn swivel hooks and fork trucks into a stone-lifting system.