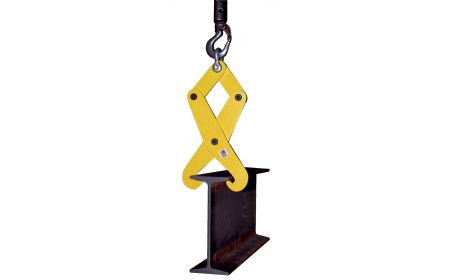 Bear Claw

®

BBT Series

Bear Claw® Beam Lifting Clamps are highly efficient clamps for securing I-beams and lifting via an overhead lifting device. The grip of each unit grows stronger the heavier the load is. These units include a lifting ring. Units are manufactured to meet ASME B30.20 standards.

See chart below and click a model number
---
Product Details
Color: Models feature a Beacon yellow powder coat finish.
Weight: These Beam Lifting Clamps weigh 15, 18, or 21 lbs.
Capacity: Beam Lifting Clamps feature working load limits of 2,000, 4,000, or 6,000 lbs. The three different models accommodate maximum beam widths of 6", 8", or 10".
Surcharge: Due to supply chain disruption, inflation or material shortages - tariffs or surcharges may apply to current published pricing. Some longer lead times may be incurred.
Note: Loads should be centered and guided while lifting.
---
Bear Claw® Beam Lifting Clamps - BBT Series

Model No.
Working Load Limit (LBS)
Max. Beam Width
Price
1) BBT-20
2,000
6"
$600.16
2) BBT-40
4,000
8"
$708.81
3) BBT-60
6,000
10"
$827.61
PROP 65 WARNING
Products on this page may lead to cancer or reproductive harm.
TM
Call Beacon:
314-487-7600