SAFETY SIGNS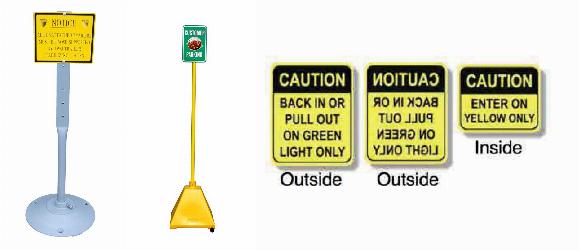 Beacon® Safety Signs are designed to help direct workers, drivers, or pedestrians and are used to warn personnel and truck drivers. Portable sign stands can be used to support various types of Industrial Signage indoors or out. Protect parking lots by adding Stop signs and No Parking signs.
---
Click one of the 4 highlighted links below for pricing and product descriptions of our Safety Signs.

1) View 2 Models


This BS-STAND, designed to display signs anywhere, is either surface-mounted or portable with a weighted base. This unit is 48" high with a base diameter of 18" and is available with a painted zinc finish.





2) View 1 Product


The BSS is vital to worker safety in many different work environments and is available in standard or custom sizes and designs. Signs are 8" high x 10" long.





3) View 8 Models


This DWS, is a safety essential for work areas where vehicles are used, is yellow polyethylene with black text. Units are available in 9" x 12" and 18" x 24".





4) View 11 Models


The BPYSB is available with or without wheels for portable or permanent applications and have removable posts and bases may be filled with sand, concrete, or water for added stability.