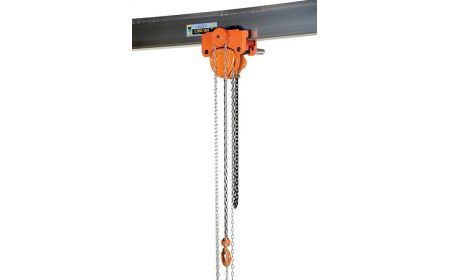 Bear Claw

®

BLOW Series

The manual Chain Hoist Trolley is ideal for adding extra raised hook height in small areas. These units are available in either manual push or manual chain geared models. Units come standard with anti-drop straps for extra safety.

See chart below and click a model number
---
Product Details
Construction: Chain Hoist Trolley models feature heavy-duty steel construction.
Size: Units range in width from 9-1/2" to 11-1/2", in length from 9" to 17", and in height from 10" to 15". This series provides 10' of lift. This item is for beam flanges 2" to 8" wide. From the bottom of the roller to the top of the hook ranges up to 18-1/4".
Color: Chain Hoist Trolley models are Beacon orange.
Weight: These models weigh from 20 lbs. up to 94 lbs.
Operation: These units are either push (-P) or geared (-G).
Capacities: Chain Hoist Trolley capacities range from 1,000 to 6,000 lbs.
Surcharge: Tariffs or surcharges may apply to current published pricing.
---
Bear Claw® Chain Hoist Trolley - BLOW Series

Model No.
Description
Bottom of Roller to Top of Hook
I-Beam Flange
Hoist Hook Travel Distance
Overall Size (W x L x H)
Capacity (LBS)
Price
1) BLOW-1P
Push
11¾"
2" to 6"
10'
10"x9"x10"
1,000
$320.89
PROP 65 WARNING
Products on this page may lead to cancer or reproductive harm.
TM
Call Beacon:
800-454-7159