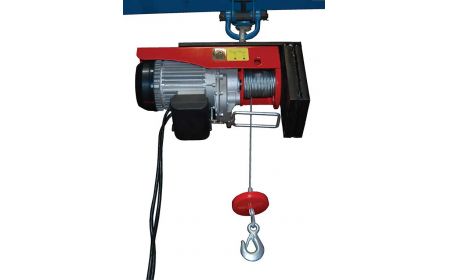 Bear Claw

®

BMINI Series

This electric Cable Hoist is designed for portable or remote applications and can be used for single or double-line lifting applications. This unit has a cable length of 36' when used as a single line or 18' when used as a double line. The series features up to a 400-lb. capacity when used with a double line.

See chart below and click a model number
---
Product Details
Power: Includes electric motor and handle held push button control operation for ease of use.
Weight: Units are either 36 or 48 lbs.
Operation: Cable Hoist operates on 115V AC power. The mounting bracket for the Cable Hoist will attach to either 1-5/8" round pipe or 1-5/8" square tubing.
Capacity: The BMINI-2 has a single-line capacity of 100 lbs. and a double-line capacity of 200 lbs. The BMINI-4 has a 200-lb. single-line capacity and a 400-lb. double-line capacity.
Options: When using the Cable Hoist with a trolley (trolley not included), an optional swivel hook plate must be ordered. The optional swivel hook plate that needs to be ordered when attaching to a standard trolley is part no: BMINI-SH.
Surcharge: Tariffs or surcharges may apply to current published pricing.
---
Bear Claw® Cable Hoist - BMINI Series

Model No.
Cable Length
Foot per Minute
Single-Line Capacity (LBS)
Double-Line Capacity (LBS)
Voltage
Operation
Voltage
Price
1) BMINI-2
36' single or 18' double
30'
100
200
Push Button
110V
$213.28
2) BMINI-4
36' single or 18' double
30'
200
400
Push Button
110V
$306.46

OPTION

Model No.
Description
Price
3) BMINI-SH
Swivel Hook for Attaching to Standard Trolley
$195.30
PROP 65 WARNING
Products on this page may lead to cancer or reproductive harm.
TM
Call Beacon:
800-454-7159