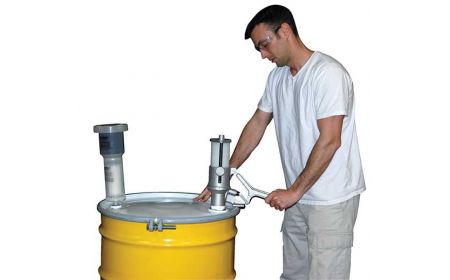 Beacon

®

BCAN-RECY Series

The Aerosol Can Crusher - Spray Can Compactor punctures cans to relieve pressure and safely empties harmful emissions and odors into your drum. This unit turns old cans into scrap metal to be recycled easily without having to worry about hazardous waste disposal regulations. This complete system includes carbon filter, puncturing device, safety goggles, and an anti-static wire which grounds the drum to prevent static buildup to meet OSHA standards.

See chart below and click a model number
---
Product Details
Size: Units are 5-13/16" deep x 14-3/8" high.
Weight: The Aerosol Can Crusher weighs 5 lbs.
Operation: To use, thread recycler body into the 2" bung thread of your 55 or 30 gallon drum. Puncture can by pushing the lever and the 2-piece carbon cartridge filter drains harmful odors and emissions.
Capacity: This series accepts cans that are up to 14-5/8" high and up to 3" in diameter.
Standard: Aerosol Can Crusher fits on either 30 or 55 gallon drums. Drum not included.
Surcharge: Tariffs or surcharges may apply to current published pricing.
---
Aerosol Can Crusher - BCAN-RECY Series

Model No.
Overall Size (D x H)
Max. Can Height
Max. Can Diameter
Attaches to
Price
1) BCAN-RECY
5-13/"16"x14⅜"
14⅝"
3"
30 or 55 Gallon Drums
$1,274.96
PROP 65 WARNING
Products on this page may lead to cancer or reproductive harm.
TM
Call Beacon:
800-454-7159