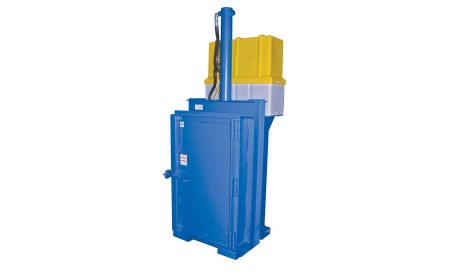 Beacon

®

BHDC Series

The Drum Compactor - Barrel Crusher crushes and compacts steel drums. The convenient design makes it two pieces of equipment in one. It crushes drums to approximately 6" high and resets automatically to crush another drum in only 25 seconds. This unit has 38,000 lbs. of crushing power and meets OSHA and JIC standards. This unit is also able to compact drum contents by removing drum crushing plate. Two types of models are available: regular and high cycle.

See chart below and click a model number
---
Product Details
Construction: Constructed of heavy-duty welded steel.
Size: The pan holds 7-1/2 gallons and measures 30" wide x 20" deep x 3" high. The two compactors are 62" long x 42" wide x 97" high or 40" long x 35.5" wide x 98" high.
Power: This series features a 6.5-Hp motor that is 208-230/460 V, 3-phase 60 Hz. Optional wash down motor and enclosures and immersion oil heaters are available, as well as an optional 575/660V motor and transformer or a 1-phase, 3Hp.
Color: Both Drum Compactor models feature a painted Beacon blue finish.
Note: Crating recommended for international shipments.
Operation: This unit can crush any size of drum up to 55 gallons but can only compact contents of 55-gallon drums.
Standard: The series features built-in fork pockets for quick transporting. Safety features include a pressure relief valve in order to prevent overload and a door interlocking system, which stops the motor from running when door is open.
Options: On model HDC-DPN of the Beacon Drum Compactor, an aluminum drip pan is available for catching any excess liquid that may be expelled during crushing.
Surcharge: Tariffs or surcharges may apply to current published pricing.
---
Drum Compactor - BHDC Series

Model No.
Size (W x L x H)
Approximate Crushed Height
Crushing Time (seconds)
Crushing Power (pounds)
Motor (HP)
Voltage/Phase
Price
1) BHDC-905-IDC/208V
35"x40"x97"
6"
25
38,000
6.5
208/3
$12,871.56
2) BHDC-905-IDC/230V
35"x40"x97"
6"
25
38,000
6.5
230/3
$12,871.56
3) BHDC-905-IDC/460V
35"x40"x97"
6"
25
38,000
6.5
460/3
$12,871.56

OPTION

Model No.
Description
Price
4) BHDC-905-WD
Wash-down Motor & NEMA 4 Enclosure
$1,106.22
5) BHDC-905-DPN
Aluminum Drip Pan, 7-1/2 gallons, 30" W x 20" D x 3" H
$171.26
6) BHDC9-1
Single Phase, 3 HP Power Unit (Option for BHDC-900-IDC), (Requires 50 AMP Warning and 40 AMP Breaker) Cycle Time Increases to Approx. 70 Sec.
$1,632.03
7) BHDC-MOTOR-575V-6.5HP
575/660V motor & transformer for BHDC-900
$1,190.59
8) BHDC-IOH-460V
Immersion oil heater (6.5Hp power units only)
$858.60
PROP 65 WARNING
Products on this page may lead to cancer or reproductive harm.


Complementary Products: For Drum Handling Equipment, please see Beacon Drum Controller.


TM
Call Beacon:
800-454-7159