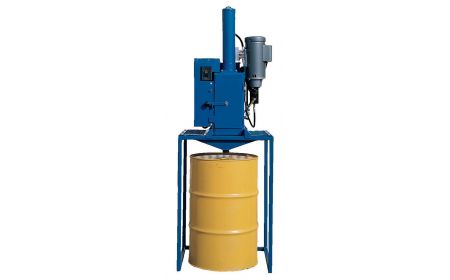 Beacon

®

BCM Series

The Oil Filter Crusher - Hydraulic Filter Crushers allows operators to safely and quickly recycle old, used oil filters. Units are easily attached to oil drain containers in order to collect old oil for safe disposal. Two types of units are available: The air-powered BCM-1 and the electric-hydraulic BCM-2. The BCM-1 provides 13,000 lbs. of crushing force at 120 PSI and is designed for high-volume use. It accommodates all standard filters and can crush up to 4 spin-on filters at once. The BCM-2 features electric-hydraulic operation with a totally enclosed, fan-cooled 4 HP motor. It can provide 37,500 lbs. of crushing force and accommodates both standard sized and heavy duty truck filters up to 16" high.

See chart below and click a model number
---
Product Details
Size: The BCM-1 is 13-3/4" wide x 18" long x 27" high. The BCM-2 is 25" wide x 27" long x 41-1/2" high.
Powered: The BCM-1 requires 100 to 180 PSI shop air. The BCM-2 features a 208-230V, 1 Phase, 4 HP motor with easy on-off switch.
Color: Models are Beacon blue.
Weight: Oil Filter Crusher units weigh either 255 or 400 lbs. Optional stands add an additional 183 to 405 lbs. of weight.
Note: BCM-1 is shown with optional BCM-T stand. BCM-2 is pictured with optional BCM-D stand.
Operation: The BCM-1 features a cycle time of 11 to 20 seconds. BCM-2 has a 12 second cycle time.
Standard: For safety, BCM-1 does not allow the crushing chamber door to be opened if the ram is not fully raised.
Options: BCM-T Oil Filter Crusher stand works with BCM-1 and requires 29" wide x 22-1/2" deep of floor space. BCM-D stand works with both models, has a heavy-duty grated drainage top, needs 30" wide x26" deep of floor space, and can accommodate one 55 gallon drum.
Surcharge: Tariffs or surcharges may apply to current published pricing.
---
Oil Filter Crusher - BCM Series

Model No.
HP / Voltage
Phase
Overall Size (W x L x H)
Max. Filter Height
Crushing Force (LBS)
Cycle Time (Seconds)
Price
1) BCM-2
4 / 208 to 230
Single
25"x27"x41½"
16"
37,500
12
$10,407.72

Air Operated Oil Filter Crusher

Model No.
Operation
PSI Required
Overall Size (W x L x H)
For Use With
Crushing Force (LBS)
Cycle Time (Seconds)
Price
2) BCM-1
Air
100-180 PSI
13¾"x18"x27"
Up to 4 standard filters
13,000
11 to 20
$3,380.14

OPTION

Model No.
Description
Overall Size (W x L x H)
Floor Space Required (W x D)
For Use With
Price
3) BCM-T
Tubular Stand
29"x22⅝"x41"
29"x22½"
BCM-1
$471.20
4) BCM-D
Deluxe Drainage Stand for use with 55-gallon drum
29"x22⅝"x44"
30"x26"
BCM-1 and BCM-2
$1,305.30
PROP 65 WARNING
Products on this page may lead to cancer or reproductive harm.
TM
Call Beacon:
800-454-7159