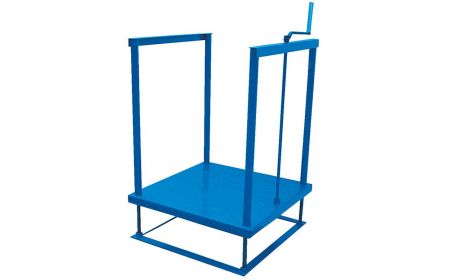 Beacon

®

BPOS Series

The Adjustable Work Platform - Step Platform is designed to minimize worker fatigue and back pain and reduce the risk of cumulative trauma injuries. This series is an ergonomic, adjustable-height worker positioner. The platform height is adjusted via hand crank, which can be removed. These models utilize ACME threaded rods along with a series of gears for proper height adjustment.

See chart below and click a model number
---
Product Details
Construction: The series features steel treadplate construction.
Size: Models are available with the following platform sizes: 36" wide x 36" long, 36" wide x 48" long, and 36" wide x 72" long.
Service Range: The unit has a lowered height of 3" and a raised height of 19".
Weight: Models are available in the following weights: 193, 220 or 283 lbs.
Capacity: The unit has a capacity of 500 lbs.
Options: An optional electric/hydraulic operation is available on the Adjustable Work Platform.
Surcharge: Tariffs or surcharges may apply to current published pricing.
---
Adjustable Work Platform - BPOS Series

Model No.
Platform Size (W x L)
Raised Height
Lowered Height
Capacity (LBS)
Operation
Price
1) BPOS-3636
36"x36"
19"
3"
500
Hand Crank
$1,212.11
2) BPOS-3648
36"x48"
19"
3"
500
Hand Crank
$1,342.74
3) BPOS-3672
36"x72"
19"
3"
500
Hand Crank
$1,495.34
PROP 65 WARNING
Products on this page may lead to cancer or reproductive harm.
TM
Call Beacon:
800-454-7159