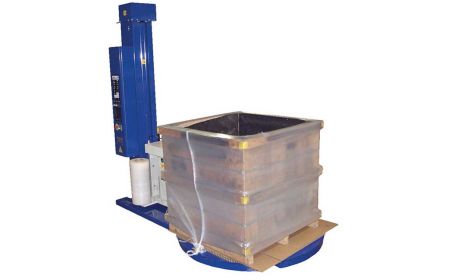 Beacon

®

BSWA-AW Series

Pallet Wrapping Machine is a high performance wrapping machine. Using touch screen digital control technology, the user can set the number of the Palletizing Equipment rotations and wrapping patterns. The user simply attaches the wrap and presses the start button. Once the pallet stretch wrapper is done, the user cuts the wrap (or uses the auto-break feature) and can then safely remove the pallet.

See chart below and click a model number
---
Product Details
Construction: Steel Construction.
Size: Units feature a turntable diameter of 60: or 82", a turntable height of 3-1/8", and a wrap height (with 20" roll) of either 88" or 104".
Operating Range: For diversity 20" high film wrap can be set to a 240% or 340% pre-stretch with 4 standard multifunction wrapping patters.
Powered: Power carousel offers a soft start and stop, runs at variable speeds of 0 to 13 RPM.
Power: 115V AC, 1 phase power
Installation: Unit ships as a knockdown. Therefore some assembly required.
Weight: Units weigh either 1,652 or 1,892 lbs. Options weigh between 300 and 500 lbs.
Operation: The unit is easy to operate by digital control by setting the number of pallet rotation in relationship to one of the 4 film wrapping patterns. After completion the user ties off the film wrap on the pallet.
Capacity: Models are available with capacities of 4,000 lbs.
Standard: The heavy duty 60" round carousel includes a soft start and stop control feature with variable speed from 0 to 13 rpm for precise wrapping. The state of the art photocell sensors automatically adjust to different pallet heights.
Options: Pallet Wrapping Machine options include approach ramps, scales, and approach ramps for scales.
Materials: This unit will accept 20 inch film material.
Surcharge: Tariffs or surcharges may apply to current published pricing.
---
Pallet Wrapping Machine - BSWA-AW Series

Model No.
Capacity (LBS
Turntable Diameter
Turntable Height
Wrap Height
Max Load Diameter
Price
1) BSWA-60-AW
4,000
59"
3-1/8"
88"
94"
$14,139.77
2) BSWA-82-AW
4,000
82"
3-1/8"
104"
118"
$18,121.15

Pallet Wrapping Machine - BSWA-AW Series - OPTION

Model No.
Description
Price
3) BSWA-R-60-AW
APPROACH RAMP (SWA-60-AW) 48"Wx6113/32"Lx3"H
$873.94
4) BSWA-R-82-AW
APPROACH RAMP (SWA-82-AW) 48"Wx6113/32"Lx3"H
$901.30
5) BSWA-60-AW-SCL
SCALE ONLY (FACTORY INSTALLED / ADDS 3½" TO TURNTABLE HEIGHT)
$7,308.52
6) BSWA-R-60-AW-SCL
APPROACH RAMP FOR SCALE 48"Wx94"Lx6½"H
$1,636.84
PROP 65 WARNING
Products on this page may lead to cancer or reproductive harm.
---
More Packaging Equipment Items
---
TM
Call Beacon:
800-454-7159