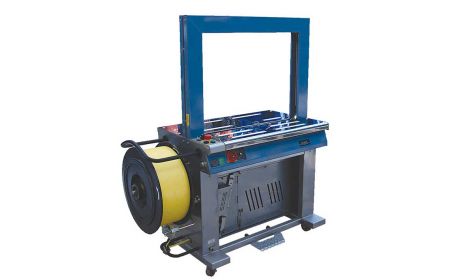 Beacon

®

BASM-3123 Series

This Strapping Machine minimizes packaging time. This High Speed Strapper dispenses, tightens, and seals 3/8" or 1/2" polypropylene strapping around bundles or packages. When the strap is inserted, the unit uses a secure heat weld to join the ends. This series has a cycle rate of up to 30 straps per minute. Tension is adjustable from 15 lbs. to 150 lbs. Strapping sold separately.

See chart below and click a model number
---
Product Details
Size: This unit is 48-3/8" wide x 23-1/8" deep x 58" high. The maximum package size for this series is 31-1/2" wide x 23-1/2" high. The table top height is 31-1/2". Strapping core size is 6" to 8" with a maximum diameter of 16".
Electrical: The strapping machine features a standard 115 V, single-phase, 15-amp wall plug.
Weight: 531 lbs.
Operation: User-friendly controls allow the operator to use panel controls, foot pedal, or a top ball switch. Auto-feeding and auto-positioning are available on this series. This series eliminates the hassle of jams by ejecting missed cycles and resetting the unit.
Standard: Strapping Machine units are portable on 3" x 1-1/4" casters.
Surcharge: Tariffs or surcharges may apply to current published pricing.
---
Strapping Machine - BASM-3123 Series

Model No.
Max. Package Size (W x H)
Table Top Height
Overall Size (W x D x H)
Cycles per Minute
Voltage
Phase
Polypropylene Strapping
Strapping Core
Price
1) BASM-3123
31½"x23 ½"
31½"
48⅜"x23⅛"x58"
30
115
Single
⅜" or ½"
6" to 8"
$8,044.03
PROP 65 WARNING
Products on this page may lead to cancer or reproductive harm.
TM
Call Beacon:
800-454-7159