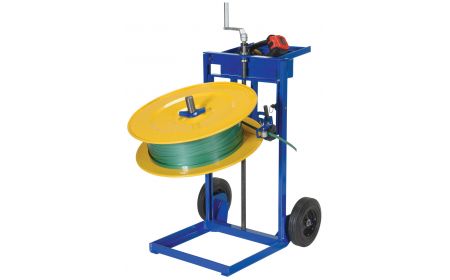 Beacon

®

BSTRAP-VH series

The Rotating Banding Cart can help productivity by allowing the user to apply strapping both vertically and horizontally around a load.
---
Product Details
Construction: Rotating Banding Cart includes steel frame construction and easily rolls on 10" x 2-1/2" semi-pneumatic wheels.
Size: Overall size of the unit measures 26-9/16" wide x 30-11/16" deep x 47-1/2" high.
Service Range: The strapping can be raised and lowered to 28" to 8".
Weight: Model weighs 176 lbs.
Note: Equipment tray measures 14" wide x 6" long x 4-1/2" deep.
Usage: Unit allows the user to apply strapping both horizontally and vertically preventing twisting the banding during packaging.
Operation: To use, simply engage out detents and turn the removable handle until strap is in the horizontal position, then disengage the out detents and engage the inner detents.
Standard: Rotating Banding Cart comes standard with 10" x 2-1/2" semi-pneumatic wheels.
Materials: Works with both poly and steel strapping with core sizes of 16" x 3", 16" x 6" and 8" x 8".
Surcharge: Tariffs or surcharges may apply to current published pricing.
---
Rotating Banding Cart - BSTRAP-VH series

Model#
Overall Size (W x D x H)
Max Diameter
Acceptable Strapping
Price
1) BSTRAP-VH
26-9/16"x30-11/16"x47-½"
24"
STEEL & POLY
$780.18
PROP 65 WARNING
Products on this page may lead to cancer or reproductive harm.
TM
Call Beacon:
800 454-7159