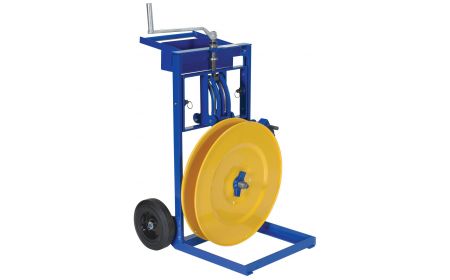 Beacon

®

BSTRAP-P2 Series

The Banding Cart enables workers to place poly strapping through a pallet. These low maintenance, economical Strapping Machines shortens packaging time. In order to use this unit, move it to the loaded pallet, extend the arm, and distribute strapping to end clip. When material is secured, roll the probe into the pallet along the center stringer. The arm will reach the other end, allowing user to pull strapping over the pallet.
---
Product Details
Size: The tray size is 19" wide x 5-3/4" deep. The minimum core width is 2-1/2". The maximum core width is 5". The overall material diameter is 13-3/4" to 16". The arm length is 40".
Color: Models are Beacon blue.
Weight: Models weigh 110 lbs.
Options: The Banding Cart accepts polypropylene strapping, which is not included.
Surcharge: Tariffs or surcharges may apply to current published pricing.
---
Banding Cart - BSTRAP-P2 Series

Model#
Arm Length
Tray Size (W x D)
Max. Diameter
Strapping Material
Strapping Core Width
Strapping Diameter
Price
1) BSTRAP-P2
40"
19"x5¾"
24"
Polypropylene
2½" to 5"
13¾"x16"
$662.15
PROP 65 WARNING
Products on this page may lead to cancer or reproductive harm.
TM
Call Beacon:
800 454-7159