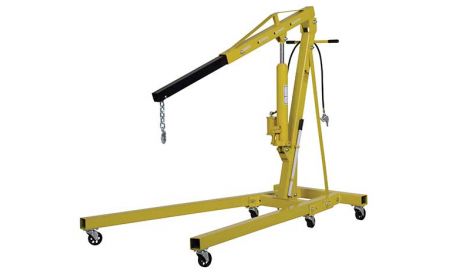 Bear Claw

®

BEHN-40 Series

The Portable Jib Crane - Mobile Shop Hoist enables a single worker to lift and maneuver heavy objects and, in addition, roll them from one location to another. This series raises items via either a hydraulic air pump or an optional hydraulic hand pump. The air pump raises the crane 7" to 8" per second; the hand pump raises the unit 1/2" per stroke. This material handling equipment is collapsible, allowing it to be stored in tight spaces. These units roll on 3-1/2" x 1-1/4" steel casters, four swivel in rear and two rigid in front.

See chart below and click a model number
---
Product Details
Construction: Portable Jib Crane features steel construction for a sturdy application.
Size: The different models have minimum heights ranging from 3" to 21" and maximum heights ranging from 86" to 102". Different units have reaches ranging from 39" to 61". The folded size is 33-1/2" wide x 44" long x 60-1/2" high.
Installation: Note: All cranes are shipped disassembled. All products should be inspected frequently to ensure safe operation. Final testing and inspecting is left to the end user after final assembly has been completed. For further details see ASME B30.17.
Color: Models are painted Beacon yellow.
Weight: 205 lbs.
Note: All lead times are approximate and are only estimates with no guarantee to a ship date.
Operation: This unit should not be moved while loaded.
Capacity: Models feature capacities of 1,000, 2,000, 3,000, or 4,000 lbs.
Standard: Standard features include an adjustable boom, a swivel hook, and foldable legs.
Options: Contact Beacon for an optional hydraulic hand pump for the Portable Jib Crane when factory air is unavailable.
Surcharge: Due to supply chain disruption, inflation or material shortages - tariffs or surcharges may apply to current published pricing. Some longer lead times may be incurred.
---
Bear Claw® Portable Jib Crane - BEHN-40 Series

Model No.
Capacity (LBS)
Reach
Max. Height
Minimum Height
Price
1) BEHN-40-C-AH-1
1,000
61
102"
3"
$642.36
2) BEHN-40-C-AH-2
2,000
53"
97"
9"
$642.36
3) BEHN-40-C-AH-3
3,000
46"
91"
15"
$642.36
4) BEHN-40-C-AH-4
4,000
39"
86"
21"
$642.36
PROP 65 WARNING
Products on this page may lead to cancer or reproductive harm.
TM
Call Beacon:
314-487-7600