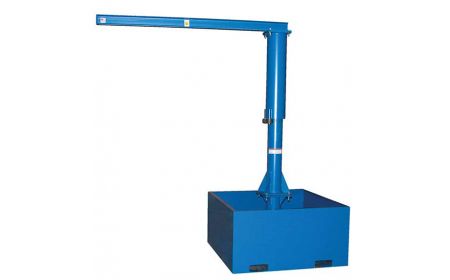 Bear Claw

®

BJIB-CB Series

The Counterweight Jib - Mobile Hoist lifts and maneuvers heavy materials and, in addition, can be transported via fork truck. The base features built-in fork tubes. This movable unit can have its base to be filled with concrete by the customer. If immediate use of this unit is desired, a model pre-filled with concrete is available. The unit's I-beam pivots a full 360 degrees for complete access.

See chart below and click a model number
---
Product Details
Construction: Counterweight Jib feature heavy-duty steel construction.
Size: The base measures 42-1/4" x 42-1/4". The base height is either 18" or 36". The I-beam heights are either 6" or 8", and the I-beam lengths are either 8' or 10'. The I-beam flange widths are 3" or 6". I-beam clearance is 10'.
Overall Fork Width: Usable fork tubes are 7-5/8" wide x 2-5/8" high.
Installation: Note: All units are shipped disassembled. All products should be inspected frequently to ensure safe operation. Final testing, inspection is left to the end user after final assembly has been completed. For further details see ASME B30.17.
Color: Beacon blue painted finish.
Weight: Models vary in weight from 803 to 5,630 lbs.
Operation: The lifting jib is not to be used as a fork truck attachment or moved while loaded.
Capacity: This series features capacities of 250, 500, or 1,000 lbs.
Options: As an option, Counterweight Jib units may be pre-filled with concrete for immediate use.
Surcharge: Due to supply chain disruption, inflation or material shortages - tariffs or surcharges may apply to current published pricing. Some longer lead times may be incurred.
Note: Unit ships knockdown. Upright column bolts to base. Instructions for filling with concrete are included with standard units. Bases that are 18" requires (41) 60-lb. bags of concrete. Bases that are 36" require (82) 60-lb. bags of concrete.
---
Bear Claw® Counterweight Jib - BJIB-CB Series

Model No.
Capacity (LBS)
I-Beam Length
I-Beam Height
I-Beam Flange Width
Base Height
Price
1) BJIB-CB-25-8-10
250
8'
6"
3"
18"
$4,965.84
2) BJIB-CB-25-10-10
250
10'
6"
3"
18"
$7,599.66
3) BJIB-CB-50-8-10
500
8'
6"
6"
18"
$7,526.59
4) BJIB-CB-50-10-10
500
10'
10⅛"
10⅛"
36"
$10,233.51
5) BJIB-CB-100-8-10
1,000
8'
10⅛"
6"
36"
$9,958.78

OPTION

Model No.
Description
Base Height
Price
6) BJIB-CB-18-B
Base pre-filled with concrete for counterbalance
18"
$1,578.72
7) BJIB-CB-36-B
Base pre-filled with concrete for counterbalance
36"
$1,823.10
PROP 65 WARNING
Products on this page may lead to cancer or reproductive harm.


Complementary Products: For additional portable industrial lifting equipment, please see Beacon work area portable gantry cranes.


TM
Call Beacon:
314-487-7600