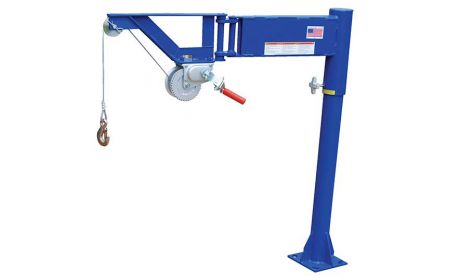 Bear Claw

®

BVAN-J Series

The Van Jib Lifter are designed for the easy lifting of loads from the ground to the level of van floors. Units can then rotate loads up to 360 degrees into the cargo area, reducing worker strain and effort needed to transfer loads. Units are available with either a manual hand crane winch or a battery-powered winch. The DC model features 36" long leads and a speed of 3/4" per second.

See chart below and click a model number
---
Product Details
Construction: Van Jib Lifter features heavy-duty steel construction. This series has a double pivoting arm to allow for use in tight spaces.
Size: Units have a swing reach from 0" to 38-1/2", a van floor to raised hook height of 38", an 8" x 8" mounting plate, and 10' or 46' of usable cable. Units are either 15-11/16" or 18-3/4" wide and are 44-7/8" deep x 46-1/16" high.
Powered: Units are operated by a manual winch or a battery-powered winch. Battery is not included with the DC model. The BVAN-J-DC model has 50' of cable.
Color: Features a Beacon blue finish.
Weight: 137 or 145 lbs.
Capacity: Units have a 400-lb. capacity at minimum swing and a 200-lb. capacity at maximum swing.
Standard: Units have a ground clearance of either 31-1/2" or 31-3/8" and a hook height of 35-1/2". The fabricated articulating arm usable length is 38-7/8" with an overall length of 42-7/8".
Options: Van Jib Lifter options include a handheld push-button control, a battery, a battery box, and a bench-top battery charger.
Surcharge: Due to supply chain disruption, inflation or material shortages - tariffs or surcharges may apply to current published pricing. Some longer lead times may be incurred.
---
Bear Claw® Van Jib Lifter - BVAN-J Series

Model No.
Description
Swing Reach (Minimum to Max.)
Usable Cable Length
Mounting Plate (W x L)
Ground Clearance
Hook Height
Articulating Arm Overall Length
Articulating Arm Usable Length
Overall Size (W x L x H)
Capacity (LBS)
Price
1) BVAN-J
Manual
0" to 38½"
10'
8"x8"
31½"
35½"
38⅞"
42⅞"
15-11/16"x44⅞"x46-1/16"
400
$966.53
2) BVAN-J-DC
DC Powered
0" to 38½"
46'
8"x8"
31⅜"
35½"
38⅞"
42⅞"
18¾"x44⅞"x46-1/16"
400
$1,420.67
PROP 65 WARNING
Products on this page may lead to cancer or reproductive harm.
TM
Call Beacon:
314-487-7600