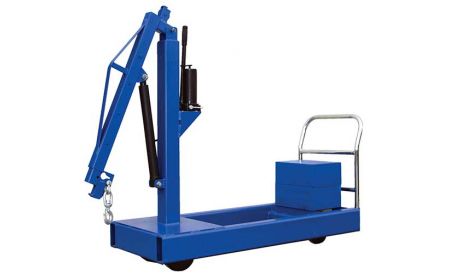 Bear Claw

®

BCBFC Series

The Counterbalance Jib Crane - Portable Jib Cart provides versatility with its adjustable and telescopic boom. Its counterbalanced design means it has no need for front legs, improving its maneuverability and allowing the unit to be used in tight spaces. The counterbalance is included. The boom is raised with a hydraulic hand pump. The base is 25" wide x 110", 117-1/2", or 132" long.

See chart below and click a model number
---
Product Details
Construction: Counterbalance Jib Crane features welded steel construction for a sturdy design.
Size: Units are 24-13/16" wide and range in length from 109-13/16" to 131-7/8" and in height from 62-1/4" to 62-3/8". Lowered arm fully extended ranges in size from 7/16" to 13-3/4" and raised arm fully extended from 86" to 95-1/2".
Color: Beacon blue.
Weight: Units weigh from 1,242 lbs. to 2,284 lbs.
Note: All lead times are approximate and are only estimates with no guarantee to a ship date.
Operation: The unit should not be moved while loaded.
Capacity: Capacities range based on the boom extension and boom height. The capacities of these models range from 200 lbs. when extended 67-3/4" up to 1,500 lbs. at 55-3/4". Uniform capacities range from 500 to 2,000 lbs.
Standard: Counterbalance Jib Crane units come standard with 8" x 2" rigid phenolic load wheels and 6" x 2" phenolic swivel casters.
Surcharge: Due to supply chain disruption, inflation or material shortages - tariffs or surcharges may apply to current published pricing. Some longer lead times may be incurred.
---
Bear Claw® Counterbalance Jib Crane - BCBFC Series

Model No.
Max. Capacity at Boom Height
Capacity extended 55-3/4"
Capacity extended 67-3/4"
Lowered Arm Extended
Raised Arm Extended
Base (L x W)
Boom Length
Overall Size (W x L x H)
Price
1) BCBFC-500
500 lbs. at 24" to 86"
350 lbs.
200 lbs.
7/16"
86"
110"x25"
44"
24-13/16"x109-13/16"x62¼"
$3,917.83
2) BCBFC-1000
1,000 lbs. at 24" to 90"
700 lbs.
400 lbs.
3¾"
90"
117½"x25"
42"
24-13/16"x117⅜"x62-5/16"
$5,369.51
3) BCBFC-2000
2,000 lbs. at 34" to 96"
1,500 lbs.
900 lbs.
13¾"
95½"
132"x25"
42"
24-13/16"x131⅞"x62⅜"
$7,269.96
PROP 65 WARNING
Products on this page may lead to cancer or reproductive harm.
TM
Call Beacon:
314-487-7600