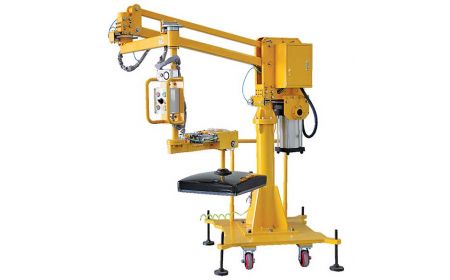 Bear Claw

®

BDSL-P Series

The Air Jib Crane - Pneumatic Jib is powered by a pneumatic cylinder. The easy, user-friendly push-button control operates the cylinder by raising and lowering the cable and therefore positioning the load. This unit is portable for versatility in the workplace. This three-dimensional series is a great addition to aid efficiency in lifting heavy materials. The arm is rotatable up to 360 degrees.

See chart below and click a model number
---
Product Details
Size: Units have a maximum arm length ranging from 78-1/4" to 93".
Service Range: The up/down stroke is 47-1/4", 57-1/2", or 78-3/4".
Color: Air Jib Crane models are Beacon yellow.
Weight: Units weigh from 960 to 1,010 lbs.
Operation: Units feature a push-button hand control which controls the pneumatic cylinder to raise and lower cable and position the load. This unit is not to be moved while loaded.
Capacity: Air Jib Crane units have a capacity of either 250 or 350 lbs.
Surcharge: Due to supply chain disruption, inflation or material shortages - tariffs or surcharges may apply to current published pricing. Some longer lead times may be incurred.
---
Bear Claw® Air Jib Crane - BDSL-P Series

Model No.
Up/Down Stroke
Max. Arm Length
Capacity (LBS.)
Arm Rotation
Air Pressure
Price
1) BDSL-300-P
47¼"
78¼"
250
360°
100 PSI
$45,543.74
2) BDSJ-300-P
57½"
93"
250
360°
100 PSI
$37,713.70
PROP 65 WARNING
Products on this page may lead to cancer or reproductive harm.
TM
Call Beacon:
314-487-7600