Powered Electric Floor Crane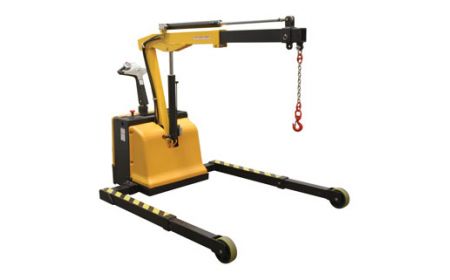 Bear Claw

®

BEPFC series

The Powered Electric Floor Crane is engineered to move loads quickly and safely. This model has a state of the art ergonomic design that allows the user to lift and move objects efficiently.

See chart below and click a model number
---
Product Details
Models: Model BEPFC-25 features adjustable length legs. Model BEPFC-25-AA features adjustable length legs and 36-1/2" to 51-1/2" adjustable width legs. Model BEPFC-CB-15 features fixed legs and counter balance design.
Electrical: The powered shop crane has (2) 12V batteries, integral batter chargers, and battery level gauge.
Powered: This unit is powered by a 24V DC drive and lift motor to handle heavy-duty jobs.
Weight: Models weigh between 1115 lbs., 1160 lbs., and 1700 lbs.
Usage: 3-4 Hour operation when the battery is fully charged. 8 Hour operation when used intermittently.
Operation: Features an easy to use throttle with adjustable speeds, forward / reverse, lift and lower controls, and safety reverse function.
Capacities: These models can support capacities of 2,500 lbs.
Standard: Powered Electric Floor Cranes includes a rigid hook with safety latch for easy lifting.
Options: An optional floor crane hand control is available upon request.
Surcharge: Tariffs or surcharges may apply to current published pricing.
---
Powered Electric Floor Crane - BEPFC series

Model No.
Capacity Retracted (lbs.)
Capacity Extended (lbs.)
Lift Range Retracted / Extended
Retracted Size (W x L x H)
Price
1) BEPFC-25
2,500
600
44-¼"-97"
30"x80"x63"
$10,262.64
2) BEPFC-25-AA
2,500
600
44-¼"-97"
30"x80"x63"
$10,952.62
3) BEPFC-CB-15
1,500
400
44-¼"-97"
35"x110"x68"
$12,432.43

Powered Electric Floor Crane - BEPFC series - OPTION

Model No.
Description
Price
4) BEPFC-HC
Optional Floor Crane Hand Control
$258.26
PROP 65 WARNING
Products on this page may lead to cancer or reproductive harm.
TM
Call Beacon:
800-454-7159