Stainless Steel Pallet Trucks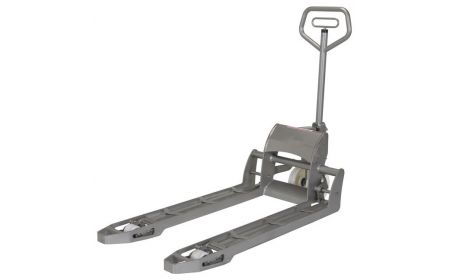 Beacon

®

BULM-PM series

These Stainless Steel Pallet Trucks are constructed out of 304 Stainless Steel. These pallet trucks are ideal for food handling and other clean environments.

See chart below and click a model number
---
Product Details
Construction: Designed and manufactured with open forks for easy cleaning.
Size: Overall fork sizes for these units measure 26-3/4" x 45-1/4".
Service Range: Models have a service range of 3-3/8" to 8".
Weight: Units weigh 170 lbs. for easy maneuvering.
Usage: Use these models in food handling and other hygienic environments.
Operation: Hydraulic hand pump is used to lift loads with ease for easy transferring.
Capacity: Uniform capacity for these units is 3,300 lbs. or 4,500 lbs. depending on the unit.
Surcharge: Tariffs or surcharges may apply to current published pricing.
---
Stainless Steel Pallet Trucks - BULM-PM series

Model No.
Capacity (lbs.)
Overall Fork Size (W x L)
Service Range
Price
1) BULM-PM-2745-30
3,300
26-¾"x45-¼"
3⅜" to 8"
$5,548.85
2) BULM-PM-2745-40
4,500
26-¾"x45-¼"
3⅜" to 8"
$5,927.20
PROP 65 WARNING
Products on this page may lead to cancer or reproductive harm.
TM
Call Beacon:
800-454-7159