Stainless Steel Electric Hand Truck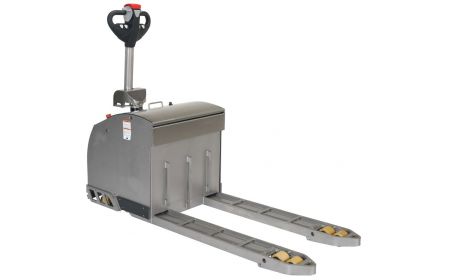 Beacon

®

BULM series

This Stainless Steel Electric Hand Truck is available for food service and other sanitary applications. This unit allows the user to easily transfer heavy loads from work place to work place.

See chart below and click a model number
---
Product Details
Construction: This Stainless Steel Electric Hand Truck is constructed out of 304L stainless steel ideal for food services and other sterile facilities.
Size: The overall fork size on this model is 27" wide x 44 - ½" long.
Service Range: This model has a service range of 3 - 3/8" to 7 - 7/8".
Powered: Engineered to be powered by a 24V / 240Ah battery to withstand long lasting shifts.
Weight: Overall weight is 1130 lbs.
Capacity: Designed with a 4,400 lb. capacity to transport large loads with ease.
Standard: Stainless Steel Electric Hand Truck comes standard with an emergency stop for safety located conveniently by the driver.
Surcharge: Tariffs or surcharges may apply to current published pricing.
---
Stainless Steel Electric Hand Truck - BULM series

Model No.
Capacity (lbs.)
Fork Size (W x L)
Service Range
Overall Size (W x L x H)
Price
1) BULM-EPT-2745-44
4,400
27"x44-½"
3⅜" to 7⅝"
28"x72"x56"
$35,460.29
PROP 65 WARNING
Products on this page may lead to cancer or reproductive harm.
TM
Call Beacon:
800-454-7159