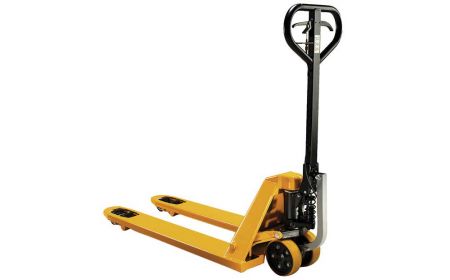 Beacon

®

BPM5-PA-Y Series

The Power Pallet Jack - Deluxe Pallet Truck are designed to aid the worker in transporting heavy loads set on pallets. After this unit serves the traditional purpose of lifting the forks, the operator switches its power accumulator, and by pulling the handle back, enables the equipment to begin to roll automatically. Each stroke provides over 2 feet of movement. This series is designed to reduce worker fatigue and strain normally associated with heavy pallet equipment.

See chart below and click a model number
---
Product Details
Size: This series has overall all fork dimensions of 27" wide x 48" long.
Service Range: This unit features a service range from 3" to 7-1/2".
Color: All models are Beacon yellow for easy visibility.
Weight: 190 lbs.
Capacity: The Power Pallet Jack has a capacity of 5,000 lbs.
Surcharge: Tariffs or surcharges may apply to current published pricing.
---
Power Pallet Jack - BPM5-PA-Y Series

Model No.
Capacity (LBS)
Overall Fork Dimensions (W x L)
Fork Service Range
Price
1) BPM5-2748-PA-Y
5,000
27"x48"
3" to 7½"
$2,637.16
PROP 65 WARNING
Products on this page may lead to cancer or reproductive harm.


Complementary Products: For equipment designed to increase a pallet truck's service range, please see Beacon skid adaptors for pallet trucks.


TM
Call Beacon:
800-454-7159