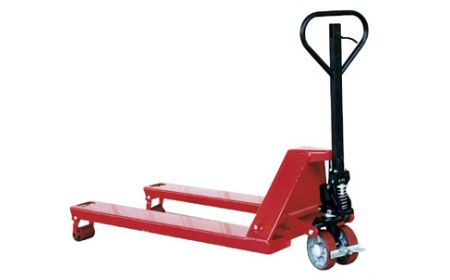 Beacon

®

BPM5-WN Series

The Short Pallet Truck - Wheel Nose Pallet Jack is designed to position skids or pallets close together, enabling truck and floor space to be optimized. They feature a 3-position lever designed to ease maneuvering. The fork end is set back from the front, allowing 1 pallet to be picked up at a time. Units include 2 front load rollers and 2 articulating steering wheels. The unit includes a spring-loaded handle that automatically moves back to the vertical position when not being used.

See chart below and click a model number
---
Product Details
Size: Models have an overall fork size of 20" wide x 38" long or 27" wide x 38" long.
Service Range: These units have a service range of 3-1/2" to 8".
Weight: 260 or 280 lbs.
Note: An emergency stop button kit and web lanyard with safety harness is included.
Capacity: The Short Pallet Truck has a capacity of 5,000 lbs.
Surcharge: Tariffs or surcharges may apply to current published pricing.
---
Short Pallet Truck - BPM5-WN Series

Model No.
Capacity (LBS)
Overall Fork Dimensions
Service Range
Price
1) BPM5-2038-WN
5,000
20"Wx38"L
3½"-8"
$501.31
2) BPM5-2738-WN
5,000
27"Wx38"L
3½"-8"
$521.23
PROP 65 WARNING
Products on this page may lead to cancer or reproductive harm.


Complementary Products: For long-life, highly efficient pallets, please see Beacon plastic pallets.


TM
Call Beacon:
800-454-7159