Pallet Jack Roll Adaptors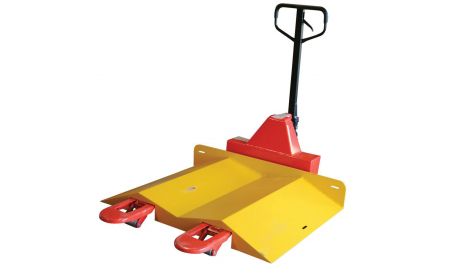 Beacon

®

BPMRA series

These Pallet Jack Roll Adaptors work with standard pallet trucks for ergonomically moving large rolls. Built in fork pockets easily convert standard pallet trucks into roll pallet trucks. The V-shaped center holds the rolls into place while transporting.

See chart below and click a model number
---
Product Details
Construction: Features a heavy duty welded steel construction with painted finish. Pockets that measure 7-1/2" x 3-1/2" are designed to fit most standard pallet jacks.
Size: The overall size Pallet Jack Roll Adaptors model BPMRA-27 is 47" x 36-1/4" x 7" and BPMRA-20 is 40-1/4" x 36-1/4" x 7".
Usage: Provides the ability to hold and transport rolls of material with a standard pallet truck.
Operation: Built-in fork pockets allow for movement with standard pallet truck.
Capacity: The capacity of the unit depends on the capacity of the pallet truck being utilized.
Standard: V-shaped designed center holds the rolls into position for transport. Include back and top for stabilizing.
Surcharge: Tariffs or surcharges may apply to current published pricing.
---
Pallet Jack Roll Adaptors - BPMRA series

Model No.
Overall Size (W x L x H)
Usable Fork Pockets (W x H)
Fork Pocket Spacing
Price
1) BPMRA-27
47"x36 -¼"x7"
7-½"x3-½"
20-¼" ON CENTER
$1,139.65
2) BPMRA-20
40-¼"x36-¼"x7"
7-½"x3-½"
13-½" ON CENTER
$1,035.59
PROP 65 WARNING
Products on this page may lead to cancer or reproductive harm.
TM
Call Beacon:
800-454-7159