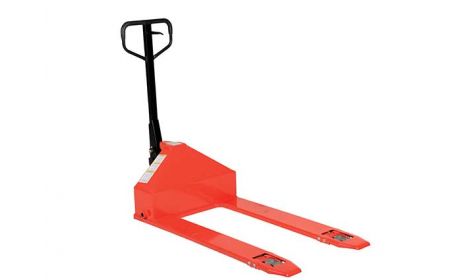 Beacon

®

BPM2-SLP Series

The Low Profile Pallet Jack is excellent for use with skids or low profile pallets. The unit features a fingertip lever switch for lower, raise, and neutral operation. This series has a powder coat finish and rubber-cushioned handle grip.

See chart below and click a model number
---
Product Details
Size: The models are available in three overall fork dimensions: 20" wide x 44" long, 27" wide x 44" long and 33" wide x 44" long.
Service Range: All models have a fork service range of 1-1/2" to 3-3/8".
Color: All models are powder-coated Beacon red and feature a black handle.
Weight: The units are available in weights of 313, 323, and 333 lbs.
Capacity: The Low Profile Pallet Jack has a capacity of 2,200 lbs.
Surcharge: Tariffs or surcharges may apply to current published pricing.
---
Low Profile Pallet Jack - BPM2-SLP Series

Model No.
Capacity (LBS)
Overall Fork Dimensions
Service Range
Price
1) BPM2-2044-SLP
2,200
21"Wx44"L
1½"-3⅜"
$804.22
2) BPM2-2744-SLP
2,200
27"Wx44"L
1½"-3⅜"
$856.31
3) BPM2-3344-SLP
2,200
33"Wx44"L
1½"-3⅜"
$881.72
PROP 65 WARNING
Products on this page may lead to cancer or reproductive harm.
TM
Call Beacon:
800-454-7159