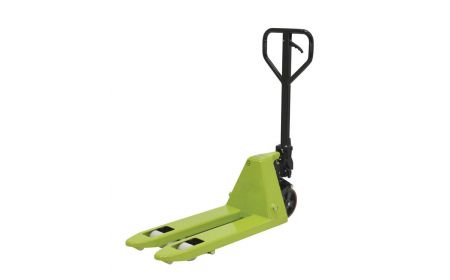 Beacon

®

BPMC series

The Portable Pallet Truck is unique because of the light weight frame and ability to maneuver in tight spaces. This unit is ergonomically designed to decrease workers fatigue. This is a common piece of equipment in warehouses and factories.

See chart below and click a model number
---
Product Details
Construction: Features a lightweight frame and self-lubricating ball bearings for easy pushing around shops or warehouses. Includes an ergonomic handle to decrease workers fatigue.
Size: The Portable Pallet Truck features fork sizes range from the smallest size of 16" x 32" and to the largest size of 26-3/4" x 45-1/4".
Service Range: All models have a lowered service range of 3-3/8". The BPMC-PM5-1632 has a service range height of 7-7/8", the BPMC-PM5-2748 has 7-5/8" and the BPMC-PM5-2748N has a service range height of 8".
Weight: These units are lightweight and only weigh 149 lbs. to 212 lbs.
Capacity: Units are lightweight with a 5,500 lb. capacity.
Standard: Manufactured with robotically welded frames for quality control.
Surcharge: Tariffs or surcharges may apply to current published pricing.
---
Portable Pallet Truck - BPMC series

Model No.
Capacity (lbs.)
Overall Fork Size (W x L)
Individual Fork Width
Service Range
Price
1) BPMC-PM5-1632
5,500
16"x32"
6-½"
3⅜" to 7⅞"
$1,010.86
2) BPMC-PM5-2748
5,500
26-½"x44-½"
6-½"
3⅜" to 7⅝"
$459.52
3) BPMC-PM5-2748-N
5,500
26-¾"x45-¼"
6⅛"
3⅜" to 8"
$553.97
PROP 65 WARNING
Products on this page may lead to cancer or reproductive harm.
TM
Call Beacon:
800-454-7159