Power Drive Manual Lift Pallet Truck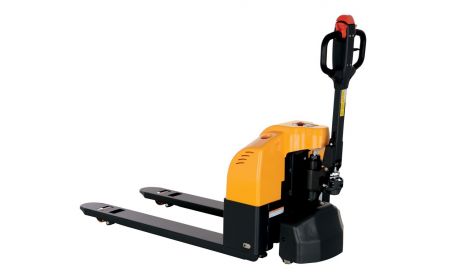 Beacon

®

BEPT-S series

This Power Drive Manual Lift Pallet Truck is semi electric. This unit has manual forks like a standard pallet truck but includes a DC battery operated traction drive system

See chart below and click a model number
---
Product Details
Size: Overall fork size for this unit is 27" wide and 48" long for a compact but powerful unit.
Service Range: Power Drive Manual Lift Pallet Truck has a service range of 3.2" to 7.8" for ergonomic lifting.
Powered: Unit features a battery powered DC traction drive system. Powered by two (2) 12V DC batteries and includes a battery charge level gauge and on-board battery charger.
Usage: Designed to transport loads quickly and safely throughout warehouse and distribution facilities.
Operation: Easy to use handle includes forward and reverse throttle control levers, and emergency stop button.
Capacity: Uniform capacity of this model is 3,300 lbs.
Standard: Power Drive Manual Lift Pallet Truck comes standard with a travel speed of 1.7 mph while loaded and 1.8 mph while unloaded.
Surcharge: Tariffs or surcharges may apply to current published pricing.
---
Power Drive Manual Lift Pallet Truck - BEPT-S series

Model No.
Capacity (lbs.)
Overall Fork Size (W x L)
Service Range
Price
1) BEPT-S-2748-33
3,300
27"x48"
3.2" to 7.8"
$3,952.19
PROP 65 WARNING
Products on this page may lead to cancer or reproductive harm.
TM
Call Beacon:
800-454-7159