Stainless Steel Pallet Jack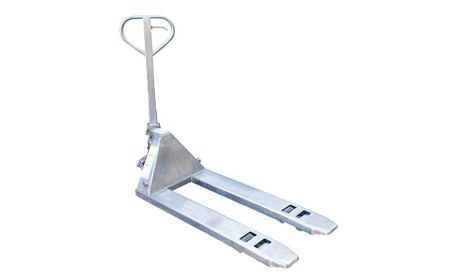 Beacon

®

BPM5-SS Series

Stainless Steel Pallet Jack is designed for wet, harsh, or corrosive environments, such as those found in chemical, pharmaceutical, or food-processing locations. SS models are available with 100% stainless steel construction or the SFF model include 304 stainless only for the steel frame and forks.

See chart below and click a model number
---
Product Details
Construction: This series is available in 304 stainless steel construction
Size: Models have fork dimensions of either 21-1/2" wide x 45" long or 27" wide x 48" long.
Service Range: Units have a service range from 2-7/8" to 7-3/4".
Weight: Models weigh between 194 and 232 lbs.
Capacity: 5,500 lbs.
Standard: All Stainless Steel Pallet Jack units feature nylon wheels for easy steering.
Surcharge: Tariffs or surcharges may apply to current published pricing.
---
Stainless Steel Pallet Jack - BPM5-SS Series

Model No.
Capacity (LBS)
Description
Overall Fork Dimensions (W x L)
Service Range
Price
1) BPM5-2048-SS
5,500
304 Stainless Steel
21½" Wx48" L
2⅞" to 7¾"
$2,720.62
2) BPM5-2748-SS
5,500
304 Stainless Steel
27"Wx48"L
2⅞" to 7¾"
$2,897.60
3) BPM5-2748-SFF
5,500
304 Stainless Frame & Forks Only
27"Wx48"L
2⅞" to 7¾"
$1,575.70
PROP 65 WARNING
Products on this page may lead to cancer or reproductive harm.


Complementary Products: For pallets that stand up excellently to the steam cleaning often done in sanitary environments, please see Beacon aluminum pallets.


TM
Call Beacon:
800-454-7159