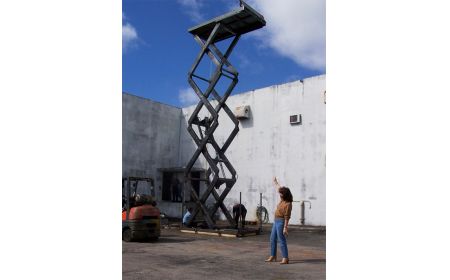 Beacon

®

BEHU Series

The quadruple-height Tall Scissor Lift is a high-travel electro-hydraulic lift. This High Scissor Table features a high-pressure gear pump and lifetime self-lubricating, anti-friction bearings at all pivot points. This series is supplied with standard straight toe guards for surface mounting. If pit mounting is required, please specify when ordering, and beveled toe guards will be supplied at no charge. Call Beacon for optional electric toe guard pricing.

See chart below and click a model number
---
Product Details
Construction: Features steel construction.
Projection: For optional beveled toe guards add 8" to the width and length. For optional straight toe guards with electric toe guard tape switch add 4" to the width and length. Specify the option during quoting for special pricing.
Size: Available with standard platform sizes of 60" x 96" or 60" x 120" and in maximum platform sizes of 84" x 120" or 84" x 144".
Service Range: The tall scissor lift table come in lowered heights of 54" or 68" and in raised heights of 294" or 356".
Electrical: 230 / 480 V AC, 3 Phase, 60 Hz is standard. Other electrical options are available.
Powered: Optional Air (Rotary Air/Oil or Reciprocating Air/Oil) is available at an additional charge.
Installation: Surface or pit mount will end up with different overall heights. The three vertical geometric properties to be aware of is the (1) Lowered height (2) Travel (3) Overall height. When mounting in a pit, your travel will end up as your overall height.
Weight: Units have weights of 7,500, 8,000, 9,000 or 10,850 lbs.
Scope: It is the customer's responsibility to meet all federal, state and local codes regarding height restrictions and safety requirements.
Note: Payment Terms: This product is special and requires a 20% deposit at time of order, 20% prior to shipment and balance net 30 with approved credit.
Capacity: These super tall models come in capacities of 3,000 or 6,000 lbs. Published capacities are rated as evenly distributed when the load is applied in the lowered position and then raised. Any applied load in the raised position, centered, end or side derates the published capacity, contact Beacon for specifications.
Standard: Smooth steel plate deck surface.
Options: A large variety of options are available for the Tall Scissor Lift, including approach ramps, handrails/toe boards, and a steel safety treadplate bridge with hinge assembly. Steel treadplate deck surface.
Limited Warranty: To keep the warranty valid you cannot cantilever the geometric ratio weight beyond the center of gravity. All units are quoted the capacity within its deck size and must keep with a uniformly distributed load.
Surcharge: Due to supply chain disruption, inflation or material shortages - tariffs or surcharges may apply to current published pricing. Some longer lead times may be incurred.
---
Stationary Scissor Lift - BEHU Series

Model No.
Travel (inches)
Cap Lbs
Edge Load Static
Edge Load Rolling
Platform Std.
Platform Max.
Base
Lowered Height (inches)
Raised Height (inches)
Approx Up Speed
Motor HP
Cyl.
Note
Price
1) BQSL-30-240
240
3000
1500
1000
60x96
84x120
60x93
54
294
70
5
2
A
$132,547.87
2) BQSL-60-240
240
6000
3000
2000
60x96
84x120
60x93
54
294
85
5
2
A
$159,501.31
3) BQSL-30-288
288
3000
1500
1000
60x120
84x144
60x112
68
356
95
5
2
A
$163,910.15
4) BQSL-60-288
288
6000
3000
2000
60x120
84x144
60x112
68
356
120
5
2
A
$181,477.27
Notes:
A: *Standard platforms. Oversized platforms, beveled toeguards, roller shades, accordion skirting and electrical tape switches will affect overall size. Power requirements depend upon frequency and type of operation and require specific selection. Standard power supply required for 5HP is 230/460/3PH/60Hz. Optional power supply for 5HP power units is 230V/1PH/60Hz (increases up speed by 33%). Note: Where available power supply is 208V/3PH, booster transformers are required for 240V/3PH at motor, see options. Conforms to or exceeds ANSI standard MH29.1-1994.

PROP 65 WARNING
Products on this page may lead to cancer or reproductive harm.
TM
Call Beacon:
314-487-7600