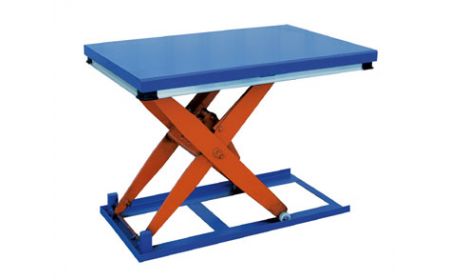 Beacon

®

BEHLT-WS Series

The small Economy Scissor Lift engineering technology raises materials to an ergonomically correct working height. These Ergonomic Lift Tables heighten workplace safety with minimum space requirements. This unit has a travel time of 8 seconds.

See chart below and click a model number
---
Product Details
Size: This product is available in platform sizes of 24" wide x 48" long, 32" wide x 48" long and 40" wide x 48" long.
Service Range: These models have a lowered height of 7" and a raised height of 36".
Installation: Surface or pit mount will end up with different overall heights. The three vertical geometric properties to be aware of is the (1) Lowered height (2) Travel (3) Overall height. When mounting in a pit, your travel will end up as your overall height.
Weight: The unit comes in weights of 720, 750 or 780 lbs.
Capacity: This Economy Scissor Lift series has a 1,500-lb. capacity designed for efficiency at the work place.
Standard: The Economy Scissor Lift comes standard with an external power unit and hand control.
Warranty: To keep warranty valid you cannot cantilever the geometric ratio weight beyond the center of gravity. All Hydraulic Lift Tables are quoted the capacity within its deck size and must keep with a uniformly distributed load.
Surcharge: Tariffs or surcharges may apply to current published pricing.
---
Economy Scissor Lift - BEHLT-WS Series

Model No.
Platform Size (W x L)
Capacity (LBS)
Raised Height
Lowered Height
Travel Time
Note
Price
1) BEHLT-WS-2448-1.5-36
24"x48"
1,500
36"
7"
8 Sec.
A
$3,102.32
2) BEHLT-WS-3248-1.5-36
32"x48"
1,500
36"
7"
8 Sec.
A
$3,154.66
3) BEHLT-WS-4048-1.5-36
40"x48"
1,500
36"
7"
8 Sec.
A
$3,243.64
Notes:
A: Travel Time Based on 3 PH Power

PROP 65 WARNING
Products on this page may lead to cancer or reproductive harm.
TM
Call Beacon:
800-454-7159