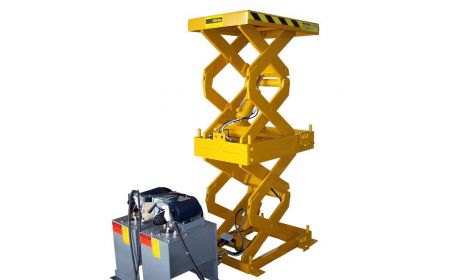 Beacon

®

BCLTPB Series

The stacked Dual Scissor Lift engineering technology, with a double acting scissor and power unit, have capacities from 1,000 to 5,000 lb. The raised height of the Double Scissor Lift Platform is 89" and are available in multiple electrical options. Accordion skirting available as an option.

See chart below and click a model number
---
Product Details
Construction: Models feature steel construction.
Projection: For optional beveled toe guards add 8" to the width and length. For optional straight toe guards with electric toe guard tape switch add 4" to the width and length. Specify the option during quoting for special pricing.
Service Range: The Dual Scissor Lifts lowered height is 17" and the overall raised height is 89"
Electrical: 230 / 480 V AC, 3 Phase, 60 Hz is standard. Other electrical options are available.
Installation: Surface or pit mount will end up with different overall heights. The three vertical geometric properties to be aware of is the (1) Lowered height (2) Travel (3) Overall height. When mounting in a pit, your travel will end up as your overall height.
Note: Payment Terms: This product is special and requires a 20% deposit at time of order, 20% prior to shipment and balance net 30 with approved credit.
Operation: Double acting leg set platform is controlled by the double power unit. Start - stop then start - stop for double the control and settings.
Standard: Smooth steel plate deck surface.
Options: Accordion skirting is an option for Dual Scissor Lifts to keep out debris and foreign objects from getting under the leg set. Steel treadplate deck surface.
Limited Warranty: To keep warranty valid you cannot cantilever the geometric ratio weight beyond the center of gravity. All units are quoted the capacity within its deck size and must keep with a uniformly distributed load.
Surcharge: Tariffs or surcharges may apply to current published pricing.
---
Scissor Lift Mechanism - BCLTPB Series

Model No.
Travel
Cap Lbs
Platform Std.
Platform Max.
Base
Lowered Height (inches)
Raised Height (inches)
Approx Up Speed
Motor HP
Cyl
Price
1) BCLTPB-02-36-S
72"
1,000
24"x36"
38"x40"
22½" 35"
17"
$13,264.92

ACCESSORY

Model No.
Description
Color
Price
2) BCLTPB-SKIRT
Accordion Bellow Skirt
Black and Yellow
$1,560.66
PROP 65 WARNING
Products on this page may lead to cancer or reproductive harm.
TM
Call Beacon:
800-454-7159