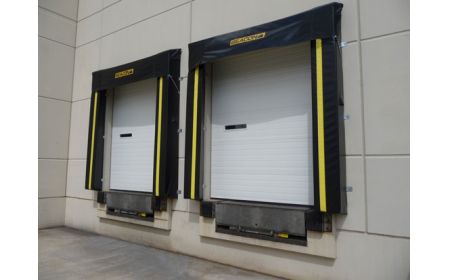 Beacon

®

B103-8x10 Series

The Loading Dock Seals includes a manual head curtain adjusted with a pulley and cord system to seal out the elements. Loading Dock Seals assist in keeping out damage-causing weather elements as well as bugs. These Warehouse Loading Door Seal units feature wrap-around style material to protect the wood and foam, breather slots, and condensation holes.

See chart below and click a model number
---
Product Details
Construction: These models are made of treated wood and solid polyurethane foam.
Projection: The 10" projection models are to be used with a 4" to 6" dock bumper projection. The 20" projection models are to be used with edge of dock levelers inclusive with a 14" to 15" dock bumper projection. Special projections available.
Size: Units are designed to fit a door opening size of 8' wide x 10' high.
Installation: These units include all required mounting brackets.
Standard: Models come standard with beveled side pads and a safety yellow guide strip.
Options: These Loading Dock Seals are available with a steel mesh armor to assist in theft protection. Also available are beveled head pads and pleats to assist in preventing damage to the side pads.
Surcharge: Tariffs or surcharges may apply to current published pricing.
---
PROP 65 WARNING
Products on this page may lead to cancer or reproductive harm.
TM
Call Beacon:
800-454-7159