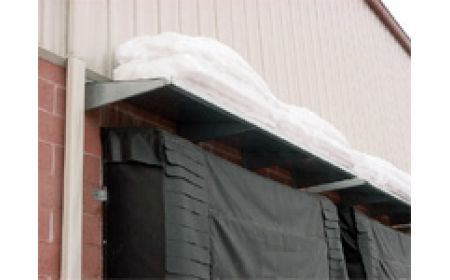 Beacon

®

MH Series

The Dock Door Metal Hoods are designed to provide overhead protection at the loading dock door area. These Loading Door Hoods shield the dock door area from rain and snow.

See chart below and click a model number
---
Product Details
Construction: Standard units are constructed of hot dip galvanized sheet metal. Optional painted units are started with unfinished sheet metal.
Projection: Various projections ranging from 14 inches to 36 inches are available.
Size: Models are 10' long.
Color: The standard units are priced as hot dipped galvanize color, welds are sprayed with cold spray galvanize. OPTION: Different colors are available in powder coat over prepared sheet metal, call for special pricing.
Note: All lead times are approximate and are only estimates with no guarantee to a ship date.
Options: Custom-made sizes of Dock Door Metal Hoods are available; contact Beacon for details.
Surcharge: Due to supply chain disruption, inflation or material shortages - tariffs or surcharges may apply to current published pricing. Some longer lead times may be incurred.
---
Dock Door Metal Hoods - MH Series

Model No.
Length
Projection
Price
1) MH-10-14
10'
14"
$1,289.81
2) MH-10-18
10'
18"
$1,467.89
3) MH-10-24
10'
24"
$1,645.97
4) MH-10-30
10'
30"
$1,824.05
5) MH-10-36
10'
36"
$2,002.13
PROP 65 WARNING
Products on this page may lead to cancer or reproductive harm.
TM
Call Beacon:
314-487-7600