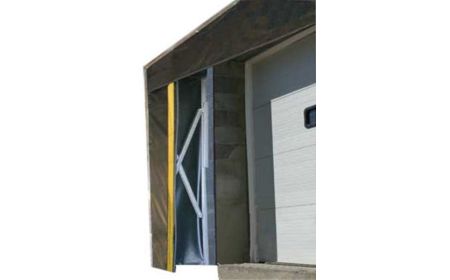 Beacon

®

BD-500-S Series

Rail Dock Shelter for the Dock Door features a steel frame covered with vinyl coated nylon. These units are designed to protect airways between rail docks, door and freight car opening against environment. The unit provides year round weather protection for material handling operations. This series is designed for platform or non platform docks. Available applications range from 15'0" high and 15'0" wide, sealing up to 84" at your rail shipping dock.

See chart below and click a model number
---
Product Details
Models: Rail Dock Shelter is desinged as (a) standard 3-sided units for when a platform exists. (b) 4 sided units are available for when no platform exists, (c ) Rolling rail shelter which give 3-sided protection where the platform extends.
Construction: The steel construction include hot dipped galvanized 1-7/8" tubular frame. Delivered in 4 structural pieces, 2 top,1 left and 1 right vertical units, assembled at job site by others.
Projection: Models starting with a standard projection of 12" compressed to 6' extended.
Size: The Rail Dock Shelter head curtain length shall be equal to the overall frame width for protection over side members.
Installation: Installation requires a minumum of 24" on each side of the door and 24" above the door header for installation. Field Assembly Process: Mount Frame, stretch material and screw. Assembly hardware and mounting brackets Included. (Building anchors by others).
Operation: When the units are not in use, it is retracted snuggly to the face of the building by a rope cleat. Easy to operate balanced pulley and rope assembly to allow for rail car passage. Each Shelter includess spring Tension activation frame with rope Cleats
Standard: Vinyl 22 oz. coated nylon - Black material. Includes Yellow Guide Stripes.
Options: Vinyl 16 oz. coated nylon - black. Please specify when ordering.
Materials: Each Rail Dock Shelter side frame has a spring with linkage scissor system. The spring pushes the frame out to the rail car door opening for tight fit.
Note: Rail Dock Shelter Survey sheet required for formal quote. Many sizes available.
---
Rail Dock Shelter - BD-500-S Series

Model No.
Std. Projection
Type
Frame Type
Activation
Coating
Price
1) BD-500-S
12" to 6'
1⅞" Tubular Galvanized Steel
3 Sided Shelter
Spring
22 oz. Vinyl-coated Nylon
$6,736.25
PROP 65 WARNING
Products on this page may lead to cancer or reproductive harm.
TM
Call Beacon:
314-487-7600