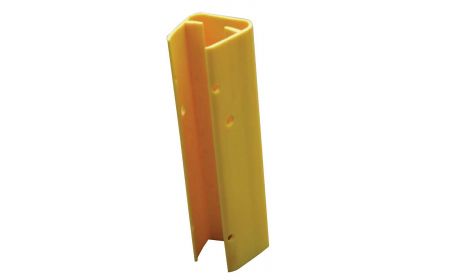 Beacon

®

BVPRP Series

The Poly Rack Shields - Plastic Rack Guards help to protect vertical supports such as pallet racking. These units prevent the need to repaint while protection structural supports from damage due to fork trucks or other industrial vehicles.

See chart below and click a model number
---
Product Details
Construction: Units feature high-density extruded polyethylene thermoplastic construction for a long life.
Size: Poly Rack Shields are available in overall heights ranging from 9" to 18". Units all have usable sizes of 3" wide x 2" deep.
Color: Units are Beacon yellow, black, or gray.
Weight: Units range in weight from 1-1/2 to 3-1/2 lbs.
Note: All lead times are approximate and are only estimates with no guarantee to a ship date.
Options: Hardware kits are sold separately of 3/8" x 3" bolts. Poly Rack Shields that are 9" tall require one hardware kit; 12" and 18" units require two.
Surcharge: Due to supply chain disruption, inflation or material shortages - tariffs or surcharges may apply to current published pricing. Some longer lead times may be incurred.
---
Poly Rack Shields - BVPRP Series

Model No.
Overall Height
Usable Size (W x D)
Hardware Kits Required
Color
Price
1) BVPRP-YL-09
9"
3"x2"
1
Yellow
$23.41
2) BVPRP-YL-12
12"
3"x2"
2
Yellow
$24.78
3) BVPRP-YL-18
18"
3"x2"
2
Yellow
$28.46
PROP 65 WARNING
Products on this page may lead to cancer or reproductive harm.
TM
Call Beacon:
314-487-7600