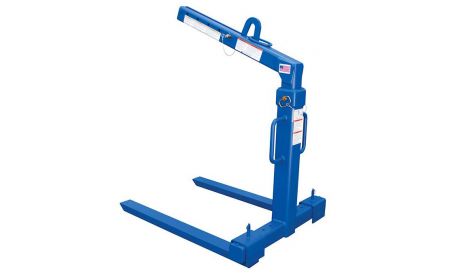 Bear Claw

®

BOLA Series

The Crane Pallet Lifter is designed for lifting and transporting pallets, skids, and crates with an overhead lifting device. This product includes an adjustable bail to ensure that the load remains level during lifting. This series includes 3 height positions for use with loads of different sizes. The BOLA series models have adjustable-width forks. The BOLF series has fixed-width forks.
---
Product Details
Construction: This unit features welded steel construction.
Size: Models feature opening heights ranging from 38-3/4" to 64", usable load heights from 51" to 76-1/4". All units feature forks that are 4" wide, 47-1/2" long, and 2" high. Usable fork length is 43".
Color: All Crane Pallet Lifter units are painted Beacon blue.
Weight: Models weigh either 488 or 517 lbs.
Capacity: Models have a capacity of either 2,000 or 4,000 lbs.
Standard: Crane Pallet Lifter units feature easy-grip handles.
---
Bear Claw® Crane Pallet Lifter - BOLA Series

Model#
Fork Width
Opening Height
Usable Load Height
Fork Size (W x L x H)
Capacity (LBS)
Price
1) BOLA-2-42
Adjustable, 16½" to 34½"
40½", 52¼", 64"
52¾", 64½", 76¼"
4"x47½"x2"
2,000
$2,287.65
2) BOLA-4-42
Adjustable, 16½" to 34½"
40½", 52¼", 64"
52¾", 64½", 76¼"
4"x47½"x2"
4,000
$2,691.08
3) BOLF-2-42
Fixed, 27"
38¾", 50½", 62½"
51", 62¾", 74½"
4"x47½"x2"
2,000
$1,979.59
4) BOLF-4-42
Fixed, 27"
38¾", 50½", 62½"
51", 62¾", 74½"
4"x47½"x2"
4,000
$2,358.52