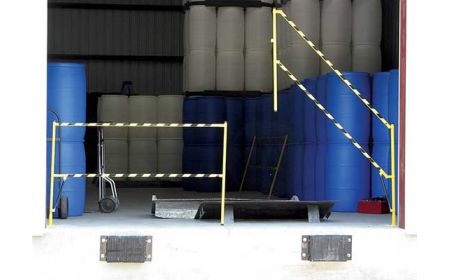 Beacon

®

BSLG Series

The Safety Dock Gates - Safety Lift Gate are a visual barrier for the loading dock. Features a self-folding action to allow workers to effortlessly lift out of the way. With just a single finger, workers can lift the gates into a vertical position with the help of the air assist cylinder.

See chart below and click a model number
---
Product Details
Construction: This series is constructed from steel tubing and features a corrosion-resistant coating.
Size: Units are either 6', 8' or 10' long. Base plates are 4" x 4"". Upper horizontal bar is 42 - 5/8". Overall raised heights ranges are 111" for the BSLG-6, 135" for the BSLG-8 and 159" for the BSLG-10 models.
Installation: Safety Dock Gates are floor-mounted to visually reduce the possibility of dock workers falling from the edge of loading docks.
Weight: BSLG-6 is 14 lbs. The BSLG-8 is 16 lbs. and the BSLG-10 is only 18" lbs.
Surcharge: Due to supply chain disruption, inflation or material shortages - tariffs or surcharges may apply to current published pricing. Some longer lead times may be incurred.
Note: May reduce insurance premium, check with your insurance advisor.
---
Safety Dock Gates - BSLG Series

Model No.
Length
Base Plate
Upper Horizontal Bar Height
Overall Raised Height
Price
1) BSLG-6
6'
4"x4"
42⅝"
111"
$595.25
2) BSLG-8
8'
4"x4"
42⅝"
135"
$663.89
3) BSLG-10
10'
4"x4"
42⅝"
159"
$723.62
PROP 65 WARNING
Products on this page may lead to cancer or reproductive harm.
TM
Call Beacon:
314-487-7600