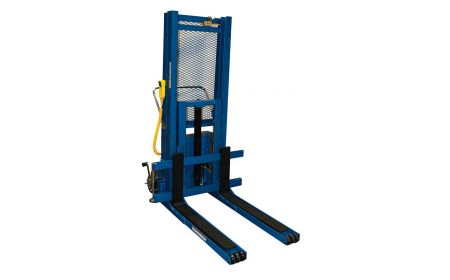 Beacon

®

BPMSS Series

The Manual Fork Truck - Skid Server are designed to move open-bottom crates, pallets, baskets, and skids. They feature an overall fork width of 37" and an 18" horizontal load center. These units move on 8"x 3" phenolic casters. Units have a handle 40" high.
---
Product Details
Size: Unit has a fork size of 6" wide x 36" long.
Service Range: These models feature a service range of 3-1/2" to 50" or 60".
Power: The unit is available in 12V DC power and includes an on-board charger. It also is available 115V AC powered or air/oil power.
Color: Models are Beacon blue.
Weight: This product comes in weights of either 1,058 or 1,078 lbs.
Note: This series is not for closed-bottom pallets.
Capacity: All models have a 4,000-lb. capacity.
Options: The Manual Fork Truck has more power options available; contact Beacon for details.
Surcharge: Tariffs or surcharges may apply to current published pricing.

WARNING This product can expose you to lead, which is known to the State of California to cause cancer and birth defects or other reproductive harm.
---
Manual Fork Truck - BPMSS Series

Model#
Capacity (LBS)
Forks (W x L)
Service Range
Power
Price
1) BPMSS-50-DC
4,000
6"x36"
3½" to 50"
12V DC
$4,865.17
2) BPMSS-60-DC
4,000
6"x36"
3½" to 60"
12V DC
$5,278.67
3) BPMSS-50-AC
4,000
6"x36"
3½" to 50"
115V AC
$4,865.17
4) BPMSS-60-AC
4,000
6"x36"
3½" to 60"
115V AC
$5,278.67
5) BPMSS-50-AIR
4,000
6"x36"
3½" to 50"
Air/Oil
$4,865.17
6) BPMSS-60-AIR
4,000
6"x36"
3½" to 60"
Air/Oil
$5,278.67
PROP 65 WARNING
Products on this page may lead to cancer or reproductive harm.
TM
Call Beacon:
800 454-7159