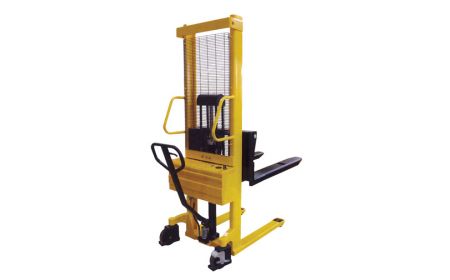 Beacon

®

BSE/HP Series

The Electric Stacker - Small Electric Pallet Jack is a perfect solution for your maintenance and commercial needs. Individual forks are 6" wide. This series is a convenient and economic tool for your facility.
---
Product Details
Size: This unit has overall fork sizes of 26-3/4 inches wide by 42 inches long.
Service Range: The raised height measures up to 118 inches depending on the model you choose. The lowered height for all models is 3-11/32 inches. Please see below for more information.
Powered: Powerful 1500 watt motor, 40 amp battery and 10 amp charger.
Power: Unit has hand pump and electric stacking features.
Weight: The unit weights 750, 850, or 990 lbs. depending on the model you choose.
Operation: Manual push with power lift.
Standard: The Electric Stacker is designed for skid only with open bottom.
Surcharge: Tariffs or surcharges may apply to current published pricing.

WARNING This product can expose you to lead, which is known to the State of California to cause cancer and birth defects or other reproductive harm.
---
Electric Stacker - BSE/HP Series

Model#
Overall Size (W x L)
Lowered Height
Raised Height
Capacity
For Use With
Price
1) BSE/HP-63
26¾"x42"
3-11/32"
63"
2,000 lbs
Skids Only
$3,427.30
2) BSE/HP-98
26¾"x42"
3-11/32"
98"
2,000 lbs
Skids Only
$3,815.39
3) BSE/HP-118
26¾"x42"
3-11/32"
118"
2,000 lbs
Skids Only
$4,120.36
PROP 65 WARNING
Products on this page may lead to cancer or reproductive harm.
TM
Call Beacon:
800 454-7159