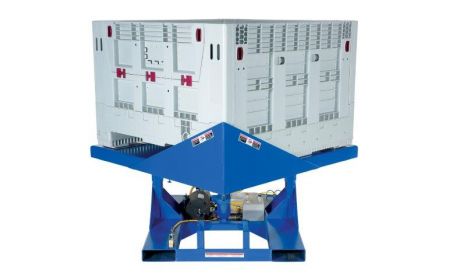 Beacon

®

BEMC Series

The portable Corner Tilting unit works to reduce repetitive motion injuries and to lessen worker fatigue. The Hydraulic Angle Tilter is designed to tilt crates, boxes, or baskets 30 degrees. This unit has built in fork tubes designed to ease portability with a fork truck. This series also features water-resistant, push-button control.
---
Product Details
Size: Available with platform sizes of 42" wide x 42" long x 24" high or 48" wide x 48" long x 24" high.
Electrical: This product is AC powered with 2 Hp motor. 480 V AC, 3 Phase, 60 Hz is standard. Other electrical options are available.
Color: Corner Tilting units have a painted blue finish
Weight: Models have weights of 750, 800, or 850 lbs.
Capacity: Features capacities of 2,000 or 4,000 lbs.
Warranty: To keep the Corner Tilting warranty valid you cannot cantilever the geometric ratio weight beyond the center of gravity. All units are quoted the capacity within its deck size.
Surcharge: Tariffs or surcharges may apply to current published pricing.
---
Corner Tilting - BEMC Series

Model#
Platform Size (W x L)
Capacity (LBS.)
Degree of Tilt
Price
1) BEMC-4242-2
42"x42"x24"
2,000
30
$4,170.85
2) BEMC-4242-4
42"x42"x24"
4,000
30
$4,290.94
3) BEMC-4848-2
48"x48"x24"
2,000
30
$4,229.01
4) BEMC-4848-4
48"x48"x24"
4,000
30
$4,425.11
PROP 65 WARNING
Products on this page may lead to cancer or reproductive harm.
TM
Call Beacon:
800 454-7159